Board of Directors

---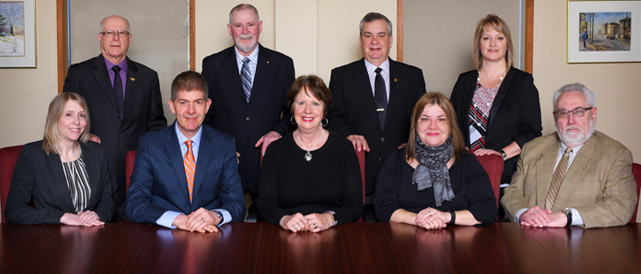 Back row, L to R: Judith Lane (resigned position June 1, 2017), Maureen Wallace, James E.A. Stanley, Julie Marr, Hector Losier and Lucien Sonier.
Front row, L to R: David Ellis (term expired Feb. 18, 2017), Dorine Pirie, François Angers (term expired Sept. 23, 2016) and Michèle Caron.
Missing: Haley Flaro
WorkSafeNB's affairs are administered by a board of directors consisting of persons appointed by the Lieutenant-Governor in Council.

The board of directors is charged with the stewardship of WorkSafeNB, a corporate entity created to administer the acts governing workers' compensation and workplace health and safety in New Brunswick. These are:
The Workers' Compensation Act
The Occupational Health and Safety Act
The Workplace Health, Safety and Compensation Commission & Workers' Compensation Appeals Tribunal Act
The Firefighters' Compensation Act
The board consists of a chairperson, a vice-chairperson, four members representing workers and four members representing employers. WorkSafeNB's president and CEO also sits on the board as a non-voting member.
© 2017 WorkSafeNB