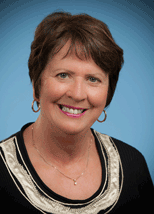 Dorine Pirie, LLB, was appointed chairperson of WorkSafeNB's board of directors on March 23, 2015.
Previous to her appointment, Pirie was the assistant deputy minister of the Labour and Planning Division of the Department of Post-Secondary Education, Training and Labour.  Before that, she served for 14 years as assistant deputy minister with the Department of Human Resources, responsible for labour relations, negotiations, classifications, compensation and corporate research for Parts I, II and III of the public service.
Pirie has a long history of public service. For 20 years she worked as a registered nurse before serving as the mayor of Kentville, N.S., for two terms.
A graduate of the University of New Brunswick's law school, Ms. Pirie has also worked for the Human Rights Commission, and is an active member of the Law Society of New Brunswick.