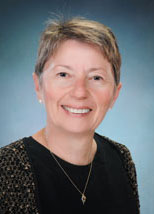 Nominated by the Canadian Association of University Teachers, Michèle Caron was appointed to the board of directors on June 3, 2010. She brings years of experience teaching and working in labour relations in Atlantic Canada.

As a union representative with the Canada Employment and Immigration Union, Atlantic Region in the early 80s, Caron implemented joint health and safety committees following amendments to the Canada Labour Code. Since 1990, she has taught law at l'Université de Moncton, offering courses in labour law, law of trusts, recourse, insurance law, equality law and philosophy of law. Since 2007, she has served as the university's president of the Association des bibliothécaires, professeures et professeurs (ABPPUM). In 2008, she participated in a WorkSafeNB accredited training session dealing with joint health and safety committees and the detection of asbestos.
 
Caron completed her undergrad at l'Université de Moncton and earned her master of law from Dalhousie University in 1993.

She lives in Cocagne.