Protecting Backs at Work

---

Congratulations to Lisa Michaud of the Foyer Ste. Elizabeth nursing home in Baker Brook. Lisa is the lucky winner of a free admission to our upcoming health and safety conference, being held Oct. 1-3 at the Saint John Trade and Convention Centre. We would like to thank everyone for getting involved in the campaign and for protecting backs at work!
Read the stories below to learn how these Back Protection Agents made a difference in their workplaces.

BACK INJURIES HURT…

Back injuries happen in every New Brunswick industry. In 2011, more than 1,500 New Brunswickers suffered a serious back injury on the job. When you add it up, those injuries account for more than 157 years of lost time. That hurts. In addition to lost productivity, income replacement benefits cost millions annually. These costs are ultimately absorbed by New Brunswick employers in the form of higher assessment rates.
That's why we launched the Protecting Backs at Work campaign in November 2013. In addition to raising awareness around the issue, we recruited Back Protection Agents for all New Brunswick workplaces. The good news is that you can still sign up! All it takes is a watchful eye and a commitment to looking out for your own safety, and that of your co-workers.
WHAT ARE THE CAUSES?
Some of the tasks we perform at work, such as lifting, reaching and repeating the same movements, can strain our bodies. In some situations, these tasks can result in an injury to the muscles, tendons, ligaments, nerves, blood vessels, and joints of the neck, shoulders, arms, wrists, legs and back. This type of injury is called a musculoskeletal injury (MSI). MSIs account for almost 36% of all lost-time injury claims WorkSafeNB processes every year. Back and shoulder injuries are the most common, representing 70% of all MSIs.
The likelihood of developing an MSI depends on the magnitude (how much), frequency (how often) and duration (how long) of exposure to associated risk factors, such as:
Forceful exertion (lifting, carrying, pushing or pulling)
Repetition
Posture (awkward or static)
Learn more about the root causes of these types of injuries through the following publications:
| | |
| --- | --- |
| Preventing Injuries by Design | Musculoskeletal Injury Prevention Video |
GET INVOLVED!
We are happy to provide a wide range of resource materials to help you reduce the incidence of back injuries, but the success of the program depends on you. Become a Back Protection Agent today by using any of the suggestions below or simply develop your own initiative to prevent musculoskeletal injuries. To receive your Back Protection Agent package in the mail, let us know what you did!
DO A SAFETY TALK
Give the safety talk in your own words on a specific topic. Use the printed talk merely as a guide. The purpose of a safety meeting is to initiate discussion of safety problems and provide solutions to those problems. Encourage employees to discuss hazards or potential hazards they encounter on the job. Ask them to suggest ways to improve safety in their area.
| | |
| --- | --- |
| Guidelines for Use [What's a Safety Talk?] | Safety Talk – Back Injury Prevention |
IS THERE A TOOL FOR THAT? (MANUAL MATERIAL HANDLING)
The Ergonomics Guidelines for Manual Handling, 2nd Edition booklet will help you identify, evaluate and control risk factors in your workplace. Simply apply the checklist and brainstorm potential solutions to your problem!
Ergonomics Guidelines for Manual Handling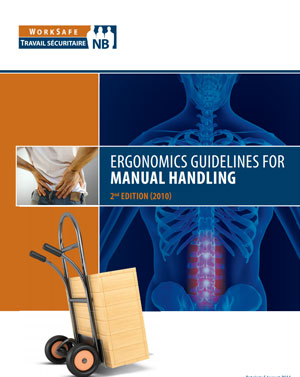 IS THERE A TOOL FOR THAT? (OFFICE)
The Office Ergonomics – Guidelines for Preventing Musculoskeletal Injuries booklet will provide the basic tools to set up and maintain a healthy workspace in the office. Is your computer workstation is a good fit for you? Use the checklist to find out!
Office Ergonomics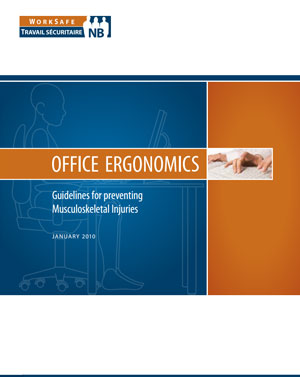 PERFORM A WARM-UP & STRETCH ROUTINE AT WORK
The human body is like a car's engine – it works better when it is properly maintained and warmed up. The same is true of the human machine; maintenance and warm-up will lead to better performance. When muscles, tendons and ligaments aren't properly warmed up, they're not prepared to meet the physical demands of manual handling. Under cold conditions, muscles are more likely to pull, tear or cramp, leading to more serious and permanent injury if work is continued.
If you have any personal health limitations, previous back injuries or other concerns, we strongly urge you to consult with a medical professional before beginning the stretch program.
| | |
| --- | --- |
| Warm-Up and Stretch video | Warm-Up and Stretch: A Companion Guide |
| Warm-Up and Stretch poster | Warm-Up and Stretch pocket card |
WRITE A CODE OF PRACTICE
A code of practice is a guide to identify MSI risks and to help workplaces meet the requirements of subsection 50(2) of the OHS Act. Develop a code of practice for a manual handling task or for client handling!
| | |
| --- | --- |
| Code of Practice for Client Handling | Code of Practice for Manual Handling |
RAISE AWARENESS
Place these posters where lifting tasks are performed or in high-traffic areas such as the lunch room. These posters serve as a great reminder!
| | |
| --- | --- |
| Back Agent Poster 1 | Back Agent Poster 2 |
| Back Agent Poster 3 | |
To order hard copies of any of these publications, send an email request to publications@ws-ts.nb.ca. To download any of these publications,visit our publications section.
For more information on how to reduce back injuries at your workplace, call us at 1 800 222-9775, or the WorkSafeNB regional office nearest you:
Saint John – 632-2200
Dieppe – 867-0525
Bathurst – 547-7300
Grand Falls – 475-2550