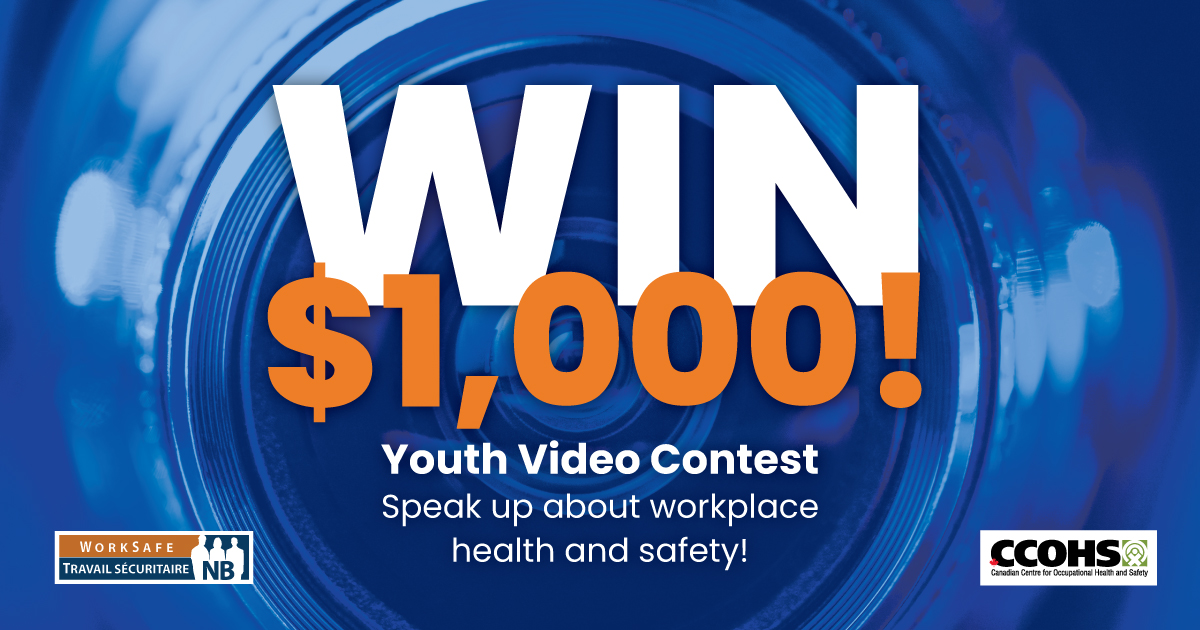 WorkSafeNB is pleased to announce the return of its annual Focus on Safety video competition for youth.
Show us how you focus on workplace safety for your chance to win up to $6,000* for you and your school! 
Young people are three to four times more likely to be hurt on the job within the first six months of employment than the average Canadian worker.
Inexperience, unfamiliarity with health and safety laws and lack of confidence to speak up and ask questions are some reasons why young people are more vulnerable to workplace injury.
To help reduce the risk, WorkSafeNB, in co-operation with the Canadian Centre for Occupational Health and Safety, is hosting the "Focus on Safety" youth video contest. The contest challenges high school students to create a two-minute original video that captures the importance of working safely. 
New Brunswick prizes:
1st place – $1,000 plus $1,000 for school
2nd place – $750 plus $750 for school
3rd place – $500 plus $500 for school
Win first place in New Brunswick, and you'll have a chance to win another $2,000 in the national contest, plus $2,000 for school.
Tips:
Research! Go to worksafenb.ca and ccohs.ca to learn about young worker safety.
Get inspired! Check out past winning videos!**
Plan! Judges look for creativity, impact, message accuracy, persuasiveness and technical quality.
Let us hear you! Make sure background noise doesn't compete with your important message!
Read the rules carefully. You may need special permissions.*** 
Enter now!
Contest is open to all New Brunswick high school students. Deadline is April 10, 2023!
*Win first place in the New Brunswick contest and you're onto the national stage! Students with a first-place video at the Canadian finals will be awarded $2,000, second place will receive $1,500 and third place will receive $1,000. Plus each winning school will receive a matching prize.
**Available on WorkSafeNB and CCOHS's YouTube sites. Also visit CCOHS's Young Workers Zone to see entries from other provinces.
***Failure to meet requirements can lead to disqualification.