Nick Perry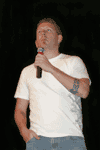 Lost Youth Tour brings safety message to close to 12,000 students!

Did you know that only 43% of young workers receive health and safety training from their employer or direct supervisor before starting their job, or within the first week of work? This means that less than half of the students in a high school are properly trained to do their jobs. Thatís pretty scary, donít you think?

This is why WorkSafeNB invited Nick Perry, a young injured worker from B.C., to speak to students and young workers in the province about workplace safety. Nick has become a passionate advocate for safety training since breaking his back in a workplace accident at the age of 19. He is also featured in the graphic video, Lost Youth.

For three weeks, Nick toured New Brunswick, sharing his story and the importance of safety on the job. He began his journey at the Annual WorkSafeNB Health and Safety Conference in Saint John, and then travelled throughout N.B., where he visited 24 high schools, six community colleges and four community events.

Our youth co-ordinator, Chantal Clement Durelle, sat down with Nick to ask him a few questions:

Chantal: How did your workplace injury affect your family and friends?

Nick: My family was devastated by my accident. During my recovery, my mother was my rock and my father was a mess. I lost my best friend, as he was the one driving the forklift, and took on much guilt. I also had plans to open a karate school, but those dreams were shattered after my spinal cord injury.

Chantal: What have you been up to since your workplace injury?

Nick: Since my accident, I have been back to school to finish some upgrading in college, then I fell into this wicked job talking to youth about workplace safety. Since then I have been trying to establish myself as a public speaker in occuaptional health and safety, as well as travelling the world to see its wonders.

Chantal: What motivates you to share your traumatic story?

Nick: My motivation is the hope that my story saves one person from making a split second decision that could change their life. It's what drives me and keeps me going. It's important for youth to think before they make unsafe decisions at work, so they can continue to live normal and healthy lives.

Chantal: What message do you want young workers to remember when they are on the job?

Nick: I can sum it up in two words, WORK SAFE. If you keep this in mind you will never go wrong.

Chantal: What will you remember the most about your tour in New Brunswick?

Nick: I enjoyed my time in Moncton, and four-wheeling in Canterbury was fun. But I think what I will remember the most is a conversation with an injured worker at NBCC Moncton. It took me back to a time when I was going through a rough transition and I was glad to be able to offer any help that I could to help him get through it.