Working smart, from the start

If you noticed scores of young, unfamiliar faces around the water cooler earlier this month, don't be alarmed – they weren't there to replace you.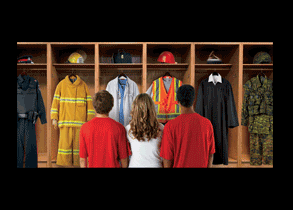 On November 7, close to 9,000 Grade 9 students joined their parents in hundreds of workplaces across New Brunswick for Take Our Kids to Work™. This national program from The Learning Partnership is held the first Wednesday of every November and gives young people a chance to shadow their parent or another adult at work for a day, to get an up-close glimpse of work life.

Jessica Brodie, WorkSafeNB's youth program co-ordinator, said it's also a great opportunity for parents and guardians to renew their focus on workplace health and safety and to set positive examples for their children.

"While Take Our Kids to Work is a chance for youth to experience a day in their parents' career, it also provides teachers and parents with an opportunity to open up dialogue about the importance of workplace safety," adding that there's more to a work day than simply punching in and out.

"Youth are also made aware of the various safety precautions their parents must take each day to ensure their own and others' safety while at work."

Sobering stats
In 2011, 590 New Brunswickers between the ages of 15 and 24 missed time at work due to injury. Tragically, two were killed. While this is a significant drop compared to 1998 when stats were first collected (969 lost-time claims) there is still room for improvement.

For Veronica Lacey, president and CEO of the Learning Partnership since 2000, one injury is one too many. She said she fully supports WorkSafeNB's efforts to educate youth and shares the "safety first" values.

"Safety concerns aren't confined to industrial work settings. Whether it's the Premier's office or a paper mill, hazards exist. You can't focus on the task at hand without first addressing safety."

Under her leadership, Take Our Kids to Work assembled a panel of safety experts who, in 2001, put forth 14 recommendations for all parents, teachers, students and employers, including mandatory orientation and communication of the right to refuse, and zero tolerance for non-compliance.

"Our top priority is the health and safety of young workers because the stats around youth injuries are indisputable. We know that when young people are compelled to get a job, they want to impress and may not question what they're told to do."

Lacey shares WorkSafeNB's belief that educating children at a young age is the key to changing attitudes.

"We are reaching kids when they're 13-years-old, most likely before they start working. If they know their rights and know they have a right to refuse dangerous work, we're hopeful they'll be less likely to engage in any activity that might compromise their safety."

To learn more about the Take Our Kids to Work program, visit The Learning Partnership website today.