Our Vocational Evaluation Program is designed to assess an injured worker's physical, psychological and vocational capabilities.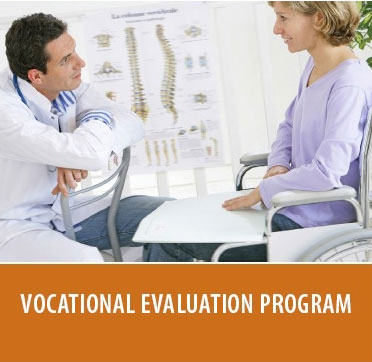 Evaluations are performed and can be specific to the pre-injury job, or general in nature. Evaluations are individually tailored and include a combination of standardized tests to determine safe work capabilities. Standardized tests to evaluate work interests, aptitudes and skills in reading, writing and arithmetic may also be included. The results of all tests are compiled into a comprehensive report that identifies the injured worker's capabilities. This report helps staff, as well as the injured worker, set realistic occupational goals and plan a safe and productive return to work.
Evaluations are performed in a simulated work environment at our rehabilitation centre or at the client's actual job site.
Length of program
Evaluations usually last two days but may be shorter or longer depending on what provides the best information required to manage the case. Regular hours of operation are from 8 a.m. to 4 p.m., Monday to Friday, but extended or alternate hours can be arranged to meet the injured worker's needs.
Referral options
The Vocational Evaluation Program offers the following evaluation options:
General functional capacity evaluation: determines an injured worker's ability to safely and dependably perform general physical demands that are not specific to any job.
Job-specific functional capacity evaluation: determines an injured worker's ability to perform the physical demands of a specific job as identified through a comprehensive job site analysis.
Job site analysis: determines the physical and environmental demands of a specific job done on the work site as identified through an intensive and detailed analysis.
Job site evaluation: measures and analyzes an individual's capability to sustain performance in a specific job while on the work site with the injured worker. This may be done to help plan a gradual return to work.
Ergonomic evaluation: involves a detailed analysis of the physical design and environmental demands of a job to identify and make recommendations to reduce or eliminate potential risk factors that may lead to injury.
Risk factor analysis: analyzes job demands performed by an occupational therapist to determine if the reported injury is attributable to the work activity.
Psychological tests
Neuropsychological assessment: to correlate specific cognitive functions with the physical status of the brain following a head injury.
Personality assessment: to describe an individual's general behavioural characteristics in perceiving, feeling, thinking and coping (anxiety, depression, impulsiveness, etc.).
Psychological status assessment: to obtain relevant information regarding a clinical problem by interview.
 
Psychometric tests
Aptitude assessment: to determine specific aptitudinal skills and aptitudinal patterns of the individual.
Interest assessment: to determine specific interest likes and dislikes as it relates to occupations.
Academic assessment: to measure specific academic achievement levels in reading, writing and arithmetic. 
Contact information
For more information, please call Coral Lovesey, Vocational Evaluation Program Manager, at 506 738-4305.