Our Work Recovery Program provides clients with occupational rehabilitation to facilitate a timely, effective and safe return to work.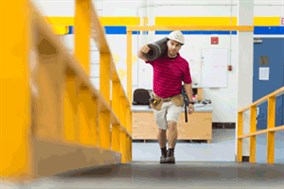 The program includes a wide variety of therapy services delivered through a structured, personalized schedule of daily activities, using interdisciplinary teams comprised of team co‑ordinators/team managers, physicians, occupational therapists, physiotherapists, psychologists, social workers and nurses. The services of a psychometrist, dietitian, prosthetic/orthotic technicians, occupational therapy technician, fitness/recreation co‑ordinator and rehabilitation assistants are also available. Individual treatments are based on musculoskeletal, cardiovascular, psychosocial and functional assessments, as well as the job requirements of each client.
Treatment length
Length of treatment is dependent on condition and progress. Generally, clients participate in a 6.5-hour treatment day. Regular hours of operation are from 8 a.m. to 4 p.m., Monday to Friday.
Referral options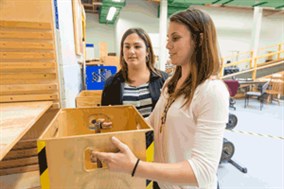 Clients are assigned to teams based upon job demands or specialty services required.
Treatment options include:
Work hardening teams:
The treatment helps clients meet their job demands. Treatment helps to restore function, increase strength, improve conditioning, reduce pain and address barriers.
Sedentary/light job demands: treatment areas are set up to simulate jobs that are classified according to their physical demand characteristics as sedentary/light.
Medium/heavy job demands: treatment areas are set up to simulate jobs that are classified according to their physical demand characteristics as medium/heavy.
Specialized teams:
Complex regional pain syndrome (CRPS): a multidisciplinary treatment for clients focused on pain management through the use of electrotherapeutic modalities, pharmaceutical interventions, desensitization techniques, psychosocial counselling, and functional activities.
Cumulative trauma disorders (CTD): a multidisciplinary treatment for upper extremity cumulative trauma disorders causing neck, shoulder, elbow and/or wrist pain. Treatment focuses on effective self-management of pain and other symptoms, education, exercise, improvement of work setting ergonomics and use of safe work techniques.
Mild traumatic brain injury (MTBI): a multidisciplinary treatment for clients who require cognitive rehabilitation and/or treatment to address the physical symptoms of mild head injury, as well as work conditioning.
Traumatic psychological injuries (TPI): multidisciplinary treatment for clients focused on psychological distress caused by exposure to workplace traumas. Treatment focuses on the core psychological, functional and physical barriers to return to work to help prepare the client for return to work.
Amputee rehab: Workers who have a partial or full amputation are treated by a team specialized in amputee management. Adaptive devices and prosthetics are explored to aid in the rehabilitation process.
Stalled return to work: identifies the physical, medical, functional and psychosocial barriers to progress on a return-to-work program and determines effective strategies to address the barriers.
Opioid reduction: a multidisciplinary approach that provides an integrated opioid reduction plus functional restoration-cognitive behavioural program for clients with opioid dependency.
Multidisciplinary consultation: an assessment that includes medical, psychosocial, physical and functional status to determine appropriate treatment recommendations.
Others:
Motivational enhancement therapy (MET): MET is based on principles of motivational psychology and is designed to produce rapid internally motivated change. This treatment employs motivational strategies to mobilize the client's own change resources to take the client from where they are currently in the cycle of change and help them move toward "preparation," where they can participate in rehabilitation/return to work and where successful sustained change can be accomplished.
Work conditioning: physiotherapy service for the subacute phase of recovery with a focus on exercise, education and job tasks to prepare for a safe return to work.
Gradual return to work: an occupational therapist plans a return to work according to the client's functional capabilities, including a progressive increase of the hours of work and duties.
Mobility assessment: ambulating (examples: crutches, canes) and seating needs (examples: wheelchairs, scooters) are determined and prescribed following assessment. Wheelchair maintenance is provided, as needed.
Traumatic psychological injuries assessment: evaluation of clients who experience a traumatic event at work that may involve actual or threatened death or serious injury and leads to unresolved psychological distress
Outpatient services: outpatient physiotherapy, occupational therapy, nutritional counselling, psychosocial counselling and/or medical exams.
Group education sessions: regularly provided for injured workers who would benefit from learning more about symptom management strategies, safe work practices, the benefits of exercise, relaxation training, transfer techniques and other relevant topics.
Understanding Pain

: learn about the pain system and how injuries affect this system. Help keep your symptoms under control so that you can do the activities you enjoy.

Safe Work Practices

: training in injury care presented in practical sessions (anatomy, proper lifting, posture and work simplification). Explores the structures (muscles, joints, tendons, etc.) that make up the body and how using proper body mechanics will help prevent injuries to these structures. We offer suggestions that help make work tasks and house chores easier on the body.

Transfer Class

: training in correct lifting and transferring of patients for health care workers.

Benefits of Exercise

: teaches the importance of regular exercise.

Restful Sleep

: Learn about sleep, the stages of sleep, and what to do to get a better night's sleep.

Nutrition Since Your Injury

: group classes with the dietitian to learn how to establish a healthy, balanced diet. Learn the link between what we eat and how we feel.

Leisure and Lifestyle

: learn about a lifestyle checklist that gives you a description of your lifestyle and provides an explanation on the need to make positive lifestyle changes. This session will help you develop safe and healthy home and work-related habits.

Stress Management and Relaxation Training

: the importance of being able to effectively relax in today's busy world. Reviews four different relaxation techniques.
Family Information on Work Recovery Program
Work Recovery Program Client Orientation Handbook
Contact information
For more information, please call Mike Bewsher, Work Recovery Program manager, at 506 738-4301 or 1 800 999-9775.