ACHIEVE EFFECTIVE RECOVERY

Effectively and efficiently tapping into all available health care resources when rehabilitation is necessary, so that injured workers can safely return to work as soon as possible.
While our goal is to prevent workplace injuries from occurring, when they do occur it is our job to help that worker recover from their injury, and assist in a safe return to work as early as possible. Effective return-to-work (RTW) practices and appropriate and timely medical care are fundamental to getting workers back to the job safely after an illness or injury.
We know that work is part of recovery and that it supports wellness and healing. We connect workers to a care network that includes medical specialists to ensure they get the timely treatment and support they need. Our recovery philosophy is focused on what a worker can do − not on what a worker can't do.
Finding new ways to meet each worker's recovery needs was a priority for us in 2018.
In 2018, we focused on better understanding where there were inefficiencies in our processes and we identified improvements to help us work smarter and faster. This allowed us to reduce the time to adjudicate claims by three days, getting clients to treatment faster and receiving wage loss benefits sooner. We also implemented a triage criterion to adjudicate our back and shoulder programs to allow clients quicker access to these treatments.
We've known that WorkSafeNB's Rehabilitation Centre (WRC) makes a difference in the lives of workers who attend the centre and work with our multidisciplinary teams, but we have struggled with long wait times. In 2018, we reduced the wait time for clients referred to the WRC from 44 days to 10 days. We accomplished this by focusing and streamlining our case management, clinical and admission practices. Now, more clients
can quickly access the rehabilitation benefits available at the WRC.
Direct referral to physiotherapy is one strategy that can increase a worker's recovery. In 2018, we increased the number of employers who participated in the program, allowing them to send employees directly for physiotherapy treatment even before WorkSafeNB adjudicates the claim. We are looking to expand the reach of this program to more employers in 2019.
Despite these achievements, we still have work to do to address increasing claim duration and in supporting our workers in returning to work. Being off work for extended periods of time, like we have seen with our longer lost-time claims, is not good for the worker, their family, employer or the economy of the province. Knowing how beneficial work is for recovery, we are continually working to improve our return to work outcomes and decrease claim durations.
NEW BRUNSWICK WORKERS RETURNED TO WORK AT 2 YEARS
We are dedicated to continually improving our service and clients' recovery outcomes, as such we are always comparing against ourselves to see how we are doing. We have seen a steady decrease in the number of clients returning to work since 2015, and we are committed to improving our outcomes to see more workers returning to work sooner.
To inform our benchmarks and to get a broader gauge on how we are doing, we look to see how we compare to other jurisdictions. Compared to our 91% of workers returned to work after two years, British Columbia, Manitoba and Saskatchewan are all best in class with 99% of workers returned to work after two years – an ambitious benchmark we are striving to match.
Our return to work outcomes were impacted by unintended consequences of changes to legislation in 2015. We are pleased that the Government of New Brunswick amended related legislation in December 2018 and we expect to see this pattern reversed in coming years.

CLAIM DURATION
We have seen a continual increase in closed claim duration since 2015. There is much room for improvement when it comes to shortening the duration of our claims. In 2018, our closed claims averaged 112 days. In 2017, the best in class was approximately 34 days, with Manitoba having an average closed claim duration of 34.26 days.
We need the full commitment from all parties (workers, employers, medical professionals and WorkSafeNB) to reverse this trend and move New Brunswick to among the best in class in return to work outcomes.
TIME FROM WORKPLACE INJURY TO CLAIM REGISTRATION
Fast access to treatment and rehabilitation is a priority in ensuring recovery. Getting injured workers connected to the treatment and supports they need requires employers, workers and the medical community to notify us and provide necessary information as quickly as possible. We are looking at how we can support all stakeholders in being more diligent in their reporting for the benefit of the injured worker and their recovery.
In 2017, Alberta was best in class, with only 3.5 days lapsed between the workplace injury and registration of the claim.
TIME FROM CLAIM REGISTRATION TO FIRST PAYMENT
When someone is hurt at work, many new stressors enter their lives – one of those is concern over their financial security. Connecting injured workers to their wage-loss benefits in a timely manner is important in helping to alleviate this worry, allowing them to focus on their recovery. In recent years we have seen an increase in the time it takes to receive payment. This is partially caused by delays in adjudication. A revision of our adjudication process is planned for 2019. When looking at best in class for 2017, Manitoba had the shortest time from claim registration to first payment among all jurisdictions – 19 days.
AVERAGE BENEFIT COST PER LOST-TIME CLAIMS 
As claims are lasting longer, their costs are also increasing. In 2018, our average cost per lost-time claim rose to $44,344, from $37,884 in 2017.
The data below demonstrates the average benefit costs per lost-time claim in thousands of dollars for each jurisdiction in 2017. New Brunswick has the highest claim costs in Canada. We anticipate the average claim costs to decrease, thanks to the recent first phase of legislative amendments, with more amendments expected in 2019.
Following legislative change in 2015, we saw a significant increase in our average benefit costs. From 2014-2018, the average claim cost increased by 48%.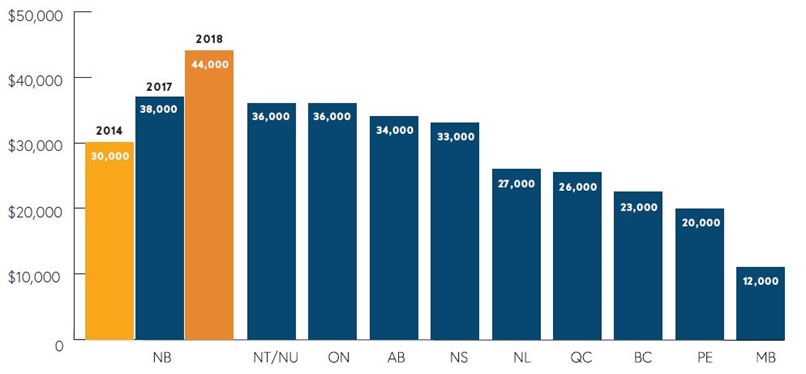 Source: Association of Workers' Compensation Boards of Canada Detailed Key Statistical Measures (KSM) Report - 2017
Staying active, productive, and connected to the workplace can help injured workers recover faster. Often, the most successful return-to-work plans involve the worker remaining at work or losing as little time away from work as possible. Helping an injured worker return-to- work is also good for business. It can lower claims costs and lead to lower assessment rates. We know the benefits of early and safe return to work, but our statistics clearly demonstrate that there are many opportunities for improvement in this area.
To move the needle, we are targeting the time it takes us to adjudicate a claim – how can we help workers and employers report the injury and complete the necessary forms as quickly as possible. Once we receive the necessary information, we must find a way to expedite our decision making process to ensure access to treatment is not delayed. And we know that it is not only access to the right treatment that is critical, but treatment at the right time by the right provider. To remove these rehabilitation barriers, we must work closely with the medical community.
We must also work hand-in-hand with employers to help support modified duties and develop gradual return to work programs for workers as part of their recovery.
While the challenge is great, fortunately, some of our counterparts have forged a path forward for us to follow. One key difference between New Brunswick and provinces with best-in-class return-to-work outcomes is legislation that clearly outlines return to work obligations and provides incentives to comply. This legislated duty to accommodate requires employers to accommodate, and support a worker's return-to-work program, and may include modifications to job tasks, reduced hours during recovery, or using technology to help complete tasks. Workers are equally responsible for their successful return-to-work with clear expectations outlined in legislation. This legislative obligation for both employers and worker incentivizes return-to-work, and enhances outcomes for employers and workers, and helps foster a healthy workforce and prosperous economy. 
BENEFITS COMPARISON ACROSS CANADA
Our initial research indicates that it is possible to provide generous benefits for injured workers while maintaining low assessment rates for employers. Learning more about our counterparts' legislation, processes and policies can inform the solutions WorkSafeNB implements as we strive to improve the workers' compensation system for the workers and employers of New Brunswick.