YOU CAN'T KEEP A GOOD WOMAN DOWN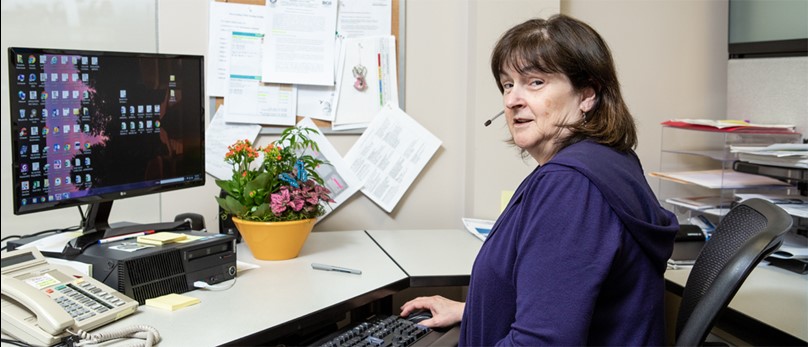 Ernestine loves her job and the laughs, teamwork and support that come with it. But after more than 12 years of nesting the telephone handset between her head and shoulder while booking registrations, training and apprenticeships for International Brotherhood of Boilermakers Lodge 73, her body was saying enough is enough. She started experiencing progressive nerve pain and cramping. "I should have had a headset before this happened," Ernestine said, "but at the time, you don't think about it, you easily dismiss the small signs that your body is uncomfortable."
The pain became so severe that it extended down through her shoulder and arm into her fingers. A visit to a specialist was required, but after trying physiotherapy and steroids with no relief, surgery was ultimately recommended.
Ernestine continued to work until days before her surgery, which she underwent in October 2018. She spent three months in recovery. Her specialist then recommended a gradual return to work, and with the help of WorkSafeNB and her employer, Ernestine returned to the work she loves.
"It felt really good to be back," Ernestine said.
Ernestine didn't know what to expect from WorkSafeNB when she reached out for support. "I was totally amazed by the compassion. My case worker met all my needs, answered all my concerns, and was knowledgeable of my progress and recovery."
Our case managers are central to the care that we provide. It is a difficult but rewarding job. "Working with Ernestine was really motivating. She loves her job and is committed to returning to work as soon as her body lets her," said Cindy Phinney, her case manager. "My role is to support and guide her through her recovery, whatever that looks like; arranging home care support or taking care of her travel to and from specialist appointments."
Having a valued and dedicated employee such as Ernestine return to work was important for her employer, David Noel. "The focus was on Ernestine's health and making sure that she was well enough to work," he said. "WorkSafeNB helped guide us through the process of her gradual return to work, with an assessment of her workplace, and some new tools to help her work more comfortably."
Part of Ernestine's gradual return to work program included a full ergonomic assessment of her workplace. Even though the surgery had alleviated her pain, it was important to prevent other repetitive strain injuries. Ernestine was provided with tools and adjustments to help reduce the repetitive strain she would be exposed to.
We caught up with Ernestine in 2019, and she is now back at work full-time with International Brotherhood of Boilermakers Lodge 73.