A Gateway to Safety - Northern Group of Companies

The Northern Group of Companies knows how critical leadership is to instill a workplace safety culture. With investment and a focus on safety, their leadership has inspired an exemplary safety culture, a source of pride for both the owners and staff.
While the family-owned contracting business, based in Grand Falls, may be considered a medium-sized player in the road building industry, its safety program is on par with some of the best national or multinational safety programs. The company was recognized by the New Brunswick Construction Safety Association (NBCSA) for Best Practice Award in 2017 and the Leadership in Health and Safety Award in 2018, Most Improved Safety Program from Nova Scotia Road Builders in 2018 and received a Safety Star Award from WorkSafeNB in 2019.
So, what's behind the accolades? "A big part of our success involves all workers in the safety process, from frontline workers being involved in creating new safe work practices to their participation in our workplace safety videos," said Daniel Belanger, owner of the Northern Group of Companies. "And all employees share in any awards Northern Group receives. Northern Group recognizes that making our workplace healthier and safer is a team effort.
"At Northern Group, we view safety not as a task but as a gateway in which all tasks are performed," Belanger said. "We've made safety a value, not a priority – priorities change – and by making it a core value, we cemented it as a belief. Everyone – top to bottom, bottom to top – understands their responsibility for their own health and safety and that of their co-workers. They know it's not just the responsibility of 'the safety guy'."
But that wasn't always the approach. It took a tragic incident in 2009 to force the company to become pro-active in health and safety and to bring it to where it is today.
"We learned from that. And it brought us to the realization that the safety culture would only change when behaviours changed." This change began with them producing a "lessons learned" video based on that incident and presenting it more than 60 times at various safety conventions and workshops, and with several organizations and companies.

"By sharing our experience of why this happened, and what was wrong with our safety program at the time, we hoped to help others avoid those pitfalls," said Blair Clancy, former health and safety manager at NGC. And now others are looking to learn from their safety program, one that sets a very high bar.
"We believe the people using the tools should develop the safety programs. That is the best way to get buy-in. You will get better engagement if you draw on the expertise of your people," Clancy said.

The company is producing safety instructional videos for most of its tasks and operations.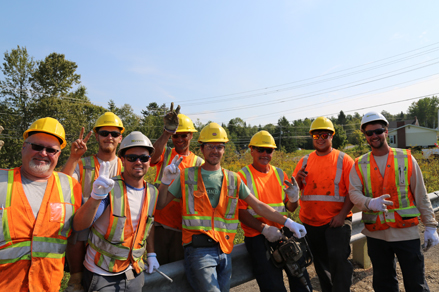 "Our front-line staff, in conjunction with our health and safety department, script and narrate the videos to reflect the actual processes and procedures needed to perform different tasks safely.
"These training videos are a valuable tool in mentoring employees when starting a new task or returning to one that is performed infrequently," he said. One unique video called upon employees' children to star as the talent. "This was a great way to reach out to families and remind our teams what safety is all about: going home safely at the end of the day, every day."
With a strong safety program in place, however, the company is committed to avoiding complacency.
"Just as health and safety is constantly changing, so are we. We continue to transform and improve. We don't want our program to get stagnant; we believe in the saying 'change before you have to'."
Looking to the future and understanding that new generations entering the workforce may prefer a different way of learning, the company is currently looking at converting their videos into microlearning modules.
"These learning modules are five-minute how-to segments. An example is how to do a walk around on a skid steer. It's there, there is no fluff. That is the way the future is going as far as learning. We're trying to get ahead of the game."
The company's commitment to safety is also evident in their significant investment in a training facility. They also support the training of all their front-line supervisors to become safety certified through the NBCSA. In fact, their supervisor training program is getting inquiries across the country.
Other components of their safety program include weekly safety meetings on topics such as grass mowing, Christmas safety and vacation safety, and a company policy that requires any meeting of four or more employees begin with a safety share. Safety shares address activities such as hunting, ice fishing, and storing dangerous goods at home. Besides having an exemplary safety program in place, Clancy believes leadership is the key to the company's recognition as a leader in workplace health and safety.
"Our owners live here in Grand Falls. We are all neighbours and friends. They have a genuine desire to keep people safe," he said. "By demonstrating and communicating the importance of safety with friends, neighbours and family, the Northern Group of Companies' safety culture extends beyond its job sites, shops and offices and out into the communities that we work in."
"Just as health and safety is constantly changing, so are we. We continue to transform and improve. We don't want our program to get stagnant; we believe in the saying 'change before you have to'."