"It was actually worse than we first thought," he said. "The hospital called me about a week later to tell me there was a chipped bone on top of everything else, so I knew I'd be laid up for a while."
A surgeon assessed Denton and fortunately he didn't require surgery. However, because of the physical nature of his job, the doctor's orders were to take it slow and remain off work until September 9.
That is how Denton got involved with WorkSafeNB. After his claim was accepted, he was assigned to senior case manager Judy Farquharson in July. "The idea of spending the summer in a walking cast didn't sit well with Blaine," she recalled. "I could tell he wanted to get back to work as soon as possible, based on the proactive role he played in his own returnto- work plan."
After an initial assessment, Denton soon found himself under the care and guidance of a physiotherapist who worked with him over the summer to prepare for his return to work in the fall.
"WorkSafeNB sent me to see a physiotherapist. The first few days were one-on-one and then moved on to work hardening, carrying stuff, lifting baskets and buckets."
Denton's progress with physiotherapy, combined with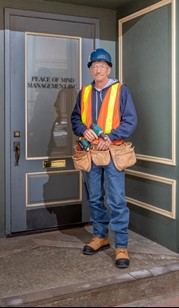 his attitude and the fact he maintained communications with his employer throughout the process meant he was fully prepared to gradually return to work in September, starting with half-days. Because he was so easy to work with and there were no identified barriers with his claim, Farquharson didn't feel the need for an occupational therapist to help with the plan, as would typically happen.
"Blaine knew his work well enough that we could identify what he could and couldn't do and his physiotherapist was willing to recommend progression of his hours and duties based on her assessment," she said.
Jonathan Wilkins, president of Peace of Mind Management (Denton's employer), said the company was more than happy to accommodate Denton. "We manage more than 500 units and are one of the largest property management companies in the region but have a relatively small team. Losing an experienced guy like Blaine for any length of time is challenging, not just because of his skills and experience, but because of what a great team member he is."
Joking that he knows the buildings inside and out better than anyone else, Wilkins and his team were happy to have him back, in whatever capacity.
"Maintenance can be hard work – lots of climbing stairs and ladders, lots of lifting and moving. We didn't want to push him too hard, so with the input of his physiotherapist and WorkSafeNB, we gave him lighter duties, such as making deliveries."
WorkSafeNB agreed to top-up his wages based on his return to work, where his employer paid for hours worked and WorkSafeNB pays the balance, something Denton was grateful for.
After months of reintegrating into the workplace and gradually increasing his hours, the day finally came when the surgeon gave him the all-clear to return full-time on January 3, 2020. Today, other than some lingering pain Denton attributes more to "getting old" than to his injury, he is very happy to be back with his co-workers and keeping busy.
"The hardest part was the boredom, to be honest. I really appreciated my colleagues calling me to see how I was doing and that my employer was willing to let me try some new tasks I hadn't done before."
For others who might find themselves in a similar situation, Denton's advice is simple.
"Embrace the help you're offered, stay connected with your workplace, and do your best to keep busy. Ya gotta move if you want it to heal, and the gradual return to work allowed me to do that."