At WorkSafeNB, we are committed to investing in technology, processes and our people to improve the overall experience for New Brunswick's workers, employers, and our staff.
Our goal is to create a highly engaged team who are committed to service excellence, clients who are pleased to do business with us because of the high value they receive, and a thriving organization that continually focuses on optimizing our service offerings, developing employee engagement, and achieving exceptional standards every day.

Client Satisfaction Index
WorkSafeNB undertakes a client satisfaction survey every two years and is looking forward to completing the survey this year and reporting on the results in our 2020 Annual Report. A typical benchmark for client satisfaction is 80%, a goal we will strive to meet in 2020. We are committed to continuously improving the client experience by listening and providing value to our stakeholders by helping them easily and seamlessly navigate our system. A focus on small business, improved return-to-work and stay-at-work outcomes, a division dedicated exclusively to prevention, standardized procedures and enhancements to our claims management processes are just some of the ways we will achieve this goal.

Employee Engagement Score
To build a workplace committed to superior service we know we must first ensure a workforce that is engaged, committed and feels valued. We cannot meet our clients' needs if we have not first met our employees' needs. To determine if we are indeed meeting our employees' needs, we measure their engagement through an annual survey to see what is working well and what we can do better. This year, we achieved an 89% response rate on our survey. This response rate is encouraging – our staff are telling us they want to be heard, and we are listening.
And while we were happy to see gains in scores related to co-worker and manager relationships and our working environment, with an engagement score of 44% compared to a benchmark of 56% we know there is much room for improvement – improvement we are steadfastly committed to.
Supporting our Key Strategic Measures
A new organizational structure to support transformation and superior service.
In 2019, WorkSafeNB changed our organizational structure to position ourselves to better serve our clients. In the claims' management and rehabilitation division, our existing structure served us well for many years. Through our staff's hard work and dedication, we have helped countless New Brunswickers return to work after an injury, regain their sense of confidence and value, and access the financial support they need. However, in recent years, the number of claims we manage has grown significantly, the costs of claims increased, and injured workers' claims have become more complex and challenging. On top of this, our clients' expectations are evolving, and they anticipate better service than ever before. Clients know what great, multi-channel customer service looks like, and they expect and deserve it from WorkSafeNB. To meet these evolving needs, we significantly changed this divisional structure by shifting from a regional model to a shared services model. While we will continue to adjust our structure based on our client needs, moving away from a regional model will enable our staff to act and react faster and more efficiently to clients concerns and expectations while improving consistency of decision-making and better accountability.
In our prevention division, we knew that our vision of a healthy and safe New Brunswick was enduring, but that organizational structure change was needed to help us better achieve this lofty vision. We recognized that our service delivery model didn't always get us where we needed to be, and it didn't always allow us to maximize value to our clients. As a result, we were missing opportunities to improve workplace health, safety and wellness and reverse the trend of increasing injury frequency and workplace fatalities. Similar to the claims division, the prevention team moved from a siloed, regional model to a shared services model that is proving to be successful in ensuring we are in the right workplaces at the right time with the right service speaking to the right staff.
Benefit Improvement for Injured Workers First Call Resolution
In December 2018, legislative amendments eliminated the three-day unpaid waiting period for injured workers. More than 25 years ago, an unpaid waiting period was introduced whereby an employee who suffered a work-related injury was not eligible for compensation for the first three days of the claim. The new legislation repeals that provision in stages, with the initial elimination of one unpaid day becoming effective July 1, 2019 and the complete elimination of the unpaid waiting period by July 1, 2021. This benefit improvement will directly impact New Brunswick's most vulnerable injured workers who might not have access to sick leave benefits during this time frame.
Bill 27, enacted in December this year, amended the duty to accommodate language in the Workers' Compensation Act to reinforce the employer's obligation to return injured workers to work, unless the accommodation causes the employer undue hardship. This will help New Brunswick's injured workers as they recover because it has been proven again and again that work is good. Returning to work helps workers stay active and renews a sense of purpose. It also provides financial stability. Working is good for physical and mental health, and, in fact, it often helps speed healing. 
First Call Resolution
When it comes to customer support metrics, first-call resolution (FCR) stands out because it touches so many important aspects of the client experience— customer satisfaction, service efficiency, and operating costs. When achieved consistently, high FCR rates have a positive impact on each of these areas and deliver a handful of significant overall benefits.
The definition of FCR is quite simple: A customer calls with an issue, and an agent helps fix the issue on the first call. Hence, first-call resolution. As we continue to build a workplace committed to superior service, WorkSafeNB looked at how it could improve its client services through FCR. We analyzed data from 2017, which told us that, at about a 35% rate, we needed to significantly improve. We set that as a baseline and focused FCR as a priority for 2019. We are proud of the progress our enquiries team has made and to report that at the end of 2019 the FCR rate had increased to 72%. While the best-in-class FCR rate is 82%, we are committed to not only reaching that goal but exceeding it. We've seen that this is not only a win for our clients, it is a win for our staff, who feel better satisfied in their job when they can better serve our clients.
Improving service through the Decision Review Office
In response to a more than 400% increase in requests for decision reviews in the first part of 2019, the former Issues Resolution Office (IRO) was transformed into the Decision Review Office (DRO) to focus exclusively on reviewing claim-related decisions for those clients that disagree with WorkSafeNB's original decision. The result is a streamlining of the review process to reduce the time to render a decision.
The DRO continues to operate independently from WorkSafeNB's operations. Team members are trained in administrative justice through the Foundation of Administrative Justice and are guided by impartiality. The change also ensures that WorkSafeNB will be prepared for legislation, enacted in January 2020 (Bill 27) that requires the DRO to be the first step in the appeals process. The client services specialist continues to respond to client concerns over service.
Online Health and Safety e-courses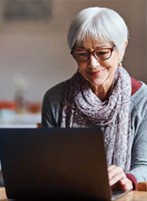 Our clients are asking WorkSafeNB to provide more online and digital options. In 2019, we were able to expand our online offerings with the launch of the following five free prevention e-courses to provide clients with flexibility to learn any time and anywhere there is internet connection.
 New Brunswick Health and Safety Legislation
 Hazard Identification, Assessment and Control
 Incident Reporting and Investigations
 Workplace Inspections
 Effective Joint Health and Safety Committees (JHSCs)
These e-courses proved popular, with more than 6,600 courses completed. This allowed New Brunswickers to avoid travel and associated costs with classroom sessions and provided time for our education consultants to work with our province's workplaces on additional value-added services.
Improving the Client Experience by ensuring the right person for the right job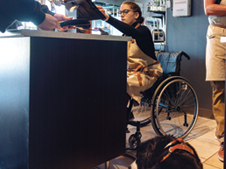 Meeting both our clients' and employees' needs means ensuring the right person is in the right job. It means identifying competencies and skills within our current workforce and determining whether these skills and competencies are best being used in an employee's current job or if they can be transferred to another role. It also means when we must recruit outside our organization, we recruit for our core competencies.
Adhering to this belief, in 2019 WorkSafeNB integrated Competency Based Management (CBM) into our recruiting and selection practices for all new employees. We now conduct behavioural competency interviews for all leadership roles and other roles, where competency profiles have been developed. We've built the core competencies of client focus, adaptability, accountability, and teamwork into interviews for all candidates, and job postings reflect their value to the organization.