Keeping New Brunswickers healthy and safe through leadership and prevention initiatives
Our vision is "Keeping people safe and healthy at work." It guides and supports everything we do. We're fully committed to bringing every New Brunswick worker home safely to their loved ones at the end of each day.
For workers and their families, a safety-first culture means they can enjoy a continued high quality of life. While someone's quality of life is subjective, it may include things such as ongoing participation in family, work, leisure and educational activities. For businesses, a safety-first culture promotes more than safety. It benefits worker confidence and retention, employee engagement, organizational behaviour and even productivity.
An organizational restructuring to enable WorkSafeNB to better serve our stakeholders today and into the future resulted in the creation of an important new executive leader position – that of vice-president of prevention. Previously, the executive leader in that role was accountable for prevention, adjudication and rehabilitation services, but we recognized the importance of prevention as a singular focus and were pleased to appoint Tim Petersen to the position. In his first full year at the helm of the new division in 2019, Tim and his staff have contributed to a healthier and safer province.
This singular focus on prevention impels not only the vice-president, but every single employee in the prevention division. By concentrating exclusively on prevention, the team is better able to implement programs and processes dedicated to ensuring a safety first culture, one committed to eliminating workplace injuries and occupational disease.
A reduced injury frequency doesn't just happen. It takes the concerted efforts of and collaboration with all our stakeholders. And because injury frequency is one of the most concrete indicators of how safe our workplaces are, WorkSafeNB was pleased to see injury frequency decline in 2019 to 1.5, a more than 12.4% reduction from the frequency of 1.7 in 2018. This is the lowest frequency in 10 years and we thank New Brunswick's workers, employers, unions, government, and safety associations for their hard work in helping achieve this result.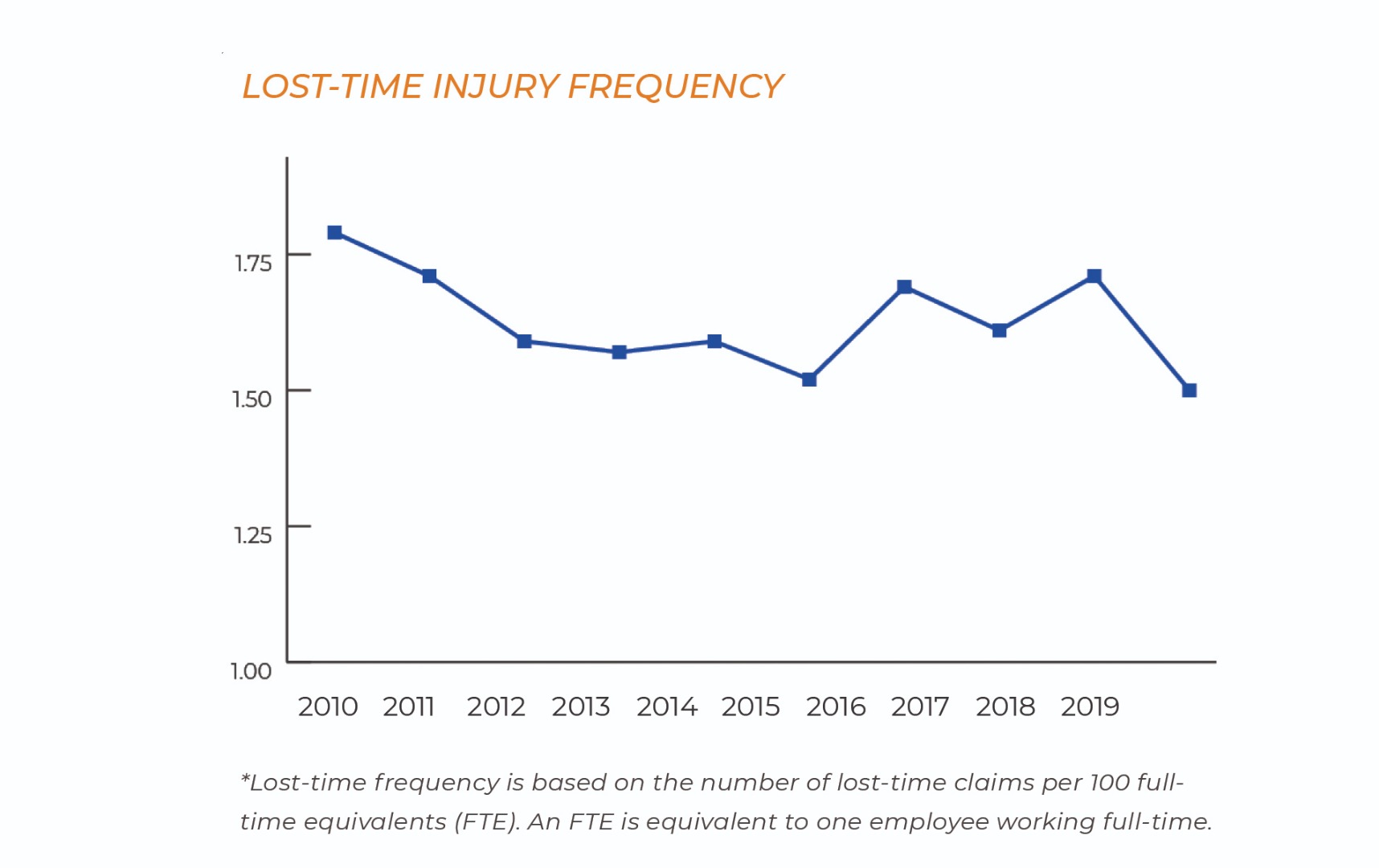 While the accident frequency for self-insured employers, which consists mostly of government departments and agencies, continues to be higher than with assessed employers, WorkSafeNB was particularly pleased to see a significant injury frequency reduction of 18% for this group of workplaces. This reduction is largely due to a nearly 27% decrease in the health care and social assistance sector.
In 2018, in conjunction with the Province of New Brunswick, WorkSafeNB began providing supervisors in the self-insured sect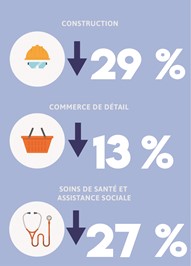 or with health and safety training. We provided training to 365 supervisors and in 2019 extended this training to include middle management, reaching an additional 316 government employees. We believe that this supervisory training was an important factor in helping decrease injury frequency in the self-insured sector. The necessity of this training was further reinforced through Bill 26, introduced in December 2019, which clarified a supervisor's duties and responsibilities under the OHS Act. Among assessed employers, the construction and retail trades were especially successful in reducing their lost-time injuries – they were down by almost 29% and 13% respectively. We thank New Brunswick's workforce for their efforts in helping reduce injury frequency and we promise to build on the momentum provided by this reduction and work even harder with our province's workers and employers to continue to drive the frequency lower as we leverage the new legislation introduced in 2019. 
Acute Fatalities
It is hard to say that we are pleased with a decline from 13 acute fatalities in 2018 to eight in 2019. We could only be pleased when that number is 0. Since 2009, an average of nine New Brunswickers died each year from avoidable acute injuries. This trend is discouraging and unacceptable. We do hope that the amended legislation highlighting the supervisor's role in keeping their workers healthy and safe, and the ability to administer penalties to employers that are non-compliant with OHS legislation will help reverse this trend. We must all be single-minded in ensuring that every New Brunswick worker goes home safely at the end of each shift.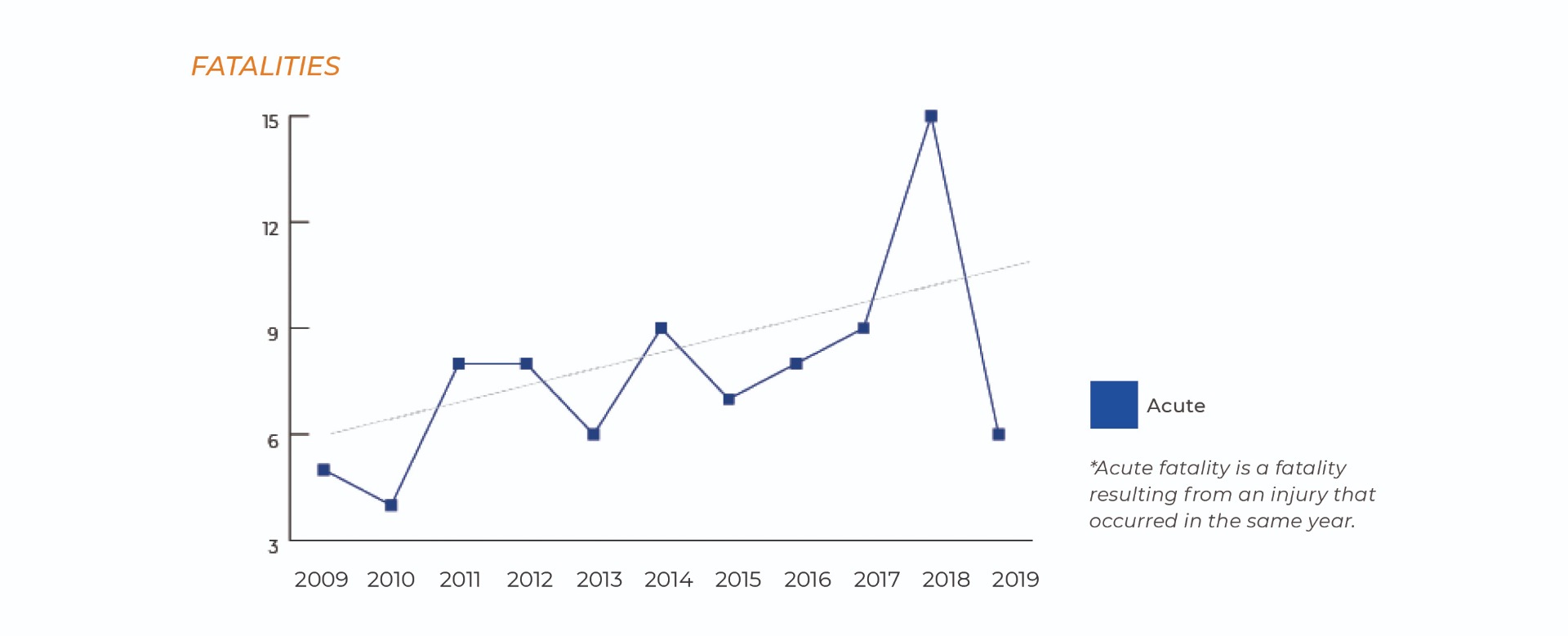 Occupational Disease
An occupational disease is caused by exposure to a workplace health hazard. Occupational diseases are usually gradual in onset and are frequently diagnosed many years after the initial exposure. Occupational disease claimed the lives of six New Brunswickers in 2019, most related to asbestos exposure. This is a decline from 15 deaths in 2018. While many measures have been put in place for several years and even decades to prevent occupational disease, we are still seeing many fatalities because of their long latency. We are currently working with government to update occupational hygiene legislation that we are hopeful will help prevent any new occurrences of occupational disease.
Health and Safety Index
To continue to drive a safety-first culture and achieve continuous improvement, we first need to understand exactly what needs to advance in the existing safety culture at New Brunswick's workplaces. That is why we adopted the award-winning Workplace Safety and Insurance Board of Ontario's Health and Safety Index (HSI), a simple measure that combines multiple performance indicators of health and safety into a single, evidence-based measure. Rather than measuring health and safety in individual workplaces, the HSI tracks change in overall performance of the province's health and safety system in one measure - it's a simple, single measure. This measure, or score, will raise awareness and help WorkSafeNB and our province's workplaces focus their health and safety efforts and resources.
The HSI survey examines the areas of prevention, worker empowerment, enforcement, workplace safety awareness and culture, and, injuries. They are calculated using demographics of age, gender and region. People feeling empowered at work and the lower number of severe injury claims had the largest positive impact on the index. The length of time it takes some people to get back to work and total overall number of injuries had a negative impact on most industry scores.
In 2019, we established a baseline to begin gathering these performance indicators. Beginning in 2020, we will assess performance against the baseline and report incremental positive or negative changes.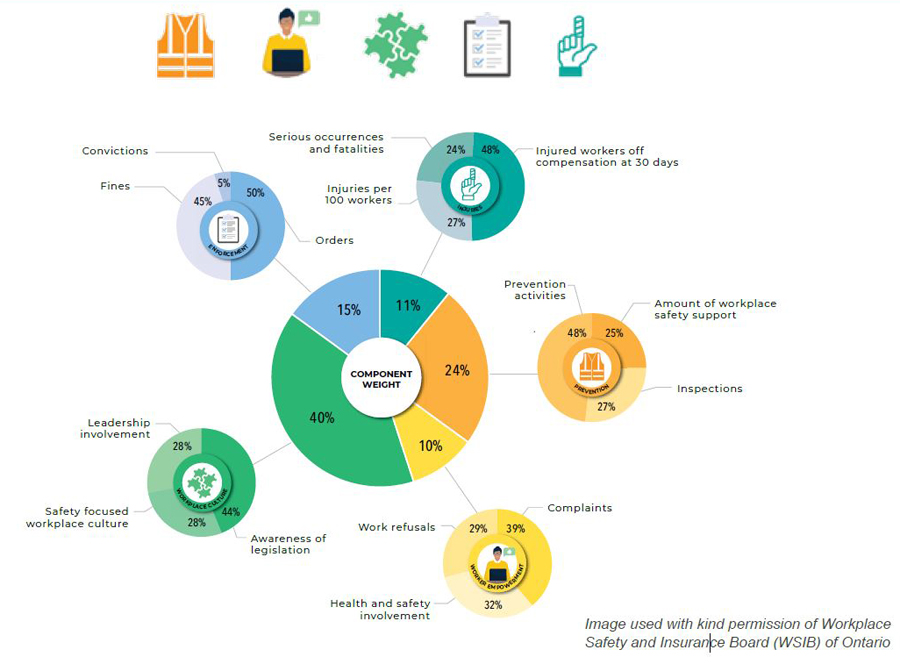 Improving Safety Legislation – New and amended legislation in 2019
Amendments to the Occupational Health and Safety (OHS) Act made in 2019 provided the momentum for WorkSafeNB to continue to drive a safety-first culture and protect employees from a wider range of hazards. Several of these legislative changes were a direct result of the Task Force recommendations and underline the importance of leadership in creating a healthy and safe workplace.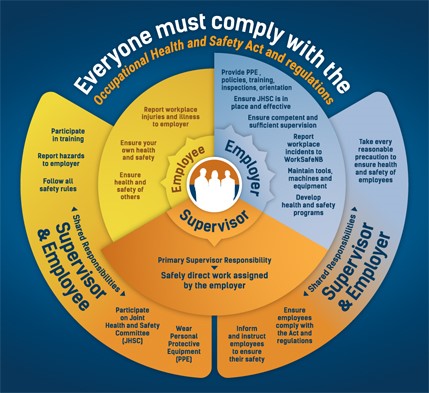 A healthy and safe workplace must be a respectful one, and, on April 1, new legislation was enacted to ensure New Brunswick workplaces are free from violence and harassment. Under the amended legislation, all employers are required to develop and implement a written code of practice to prevent workplace harassment. All employers must also conduct a risk assessment to analyze the likelihood of violence in their workplace. Once the risk assessment is completed, several factors determine whether an employer must also develop and implement a written code of practice to prevent violence.
Harassment and violence of any kind are unacceptable and cannot be tolerated and WorkSafeNB is committed to ensuring that all New Brunswick workplaces are free from harassment and violence and these new regulations are an important piece in accomplishing that goal. They are an extension of the health and safety measures all workplaces should embrace and we're pleased to see them come into effect.
WorkSafeNB undertook an extensive awareness and education campaign and developed several tools to help employers comply with the new legislation, including FAQs and a guide on developing codes of practices, with several templates and checklists.
Bill 27, enacted in June 2019, ensures that employers are provided with a copy of the OHS Act and its regulations when they register with WorkSafeNB. We hope this will in turn reinforce to employers their responsibilities of their employees' health and safety and provide for safer workplaces overall.
A legislative amendment, enacted in December through Bill 26, highlighted the vital role supervisors play in workplace health and safety. It defined the supervisor's role and responsibilities in keeping their teams safe, further propelling the safety-first culture in New Brunswick. Several resources were developed to help supervisors understand their obligations and support them as they strive to keep their workplaces and staff safe. Bill 26 also provided for flexibility in delivering joint health and safety committee (JHSC) training, allowing for external organizations and in house company trainers to deliver the training beginning in January 2020. Since there are many reputable and knowledgeable agencies that can deliver health and safety training, this will allow WorkSafeNB staff to focus our resources and services to work more directly with our province's workplaces, providing better value and more customized safety services and programs.
Proposed Legislation
The commercial fisheries industry has long been a vital component of New Brunswick's social and economic fabric. But it is widely recognized as a high-risk sector. Since fishing vessels are not considered a "place of employment" in New Brunswick, WorkSafeNB has no authority to enforce health and safety compliance on fishing vessels. That is why in 2019 we consulted extensively with the industry on proposed amendments to the OHS Act that would include fishing vessels as places of employment and make it mandatory to wear personal flotation devices (PFD) or lifejackets on the vessels. We met with more than 15 unique stakeholder groups and held an online consultation survey from October 15 – December 31, 2019, with 87% of respondents agreeing that fishing vessels should be included as places of employment.
We launched a PFD awareness campaign and hosted well-attended "crew overboard" sessions in southwestern New Brunswick, with more planned for the northern part of the province in 2020. A video of these sessions can be viewed on our website. These sessions use a professional diver to demonstrate various scenarios of a crew member falling overboard, and the appropriate lifesaving tools and techniques to use for each situation. We also developed posters reminding viewers to wear their PFDs, displayed on arena boards and rink surfaces in fishing communities across the province.
We also consulted with stakeholders on legislative changes that would provide our health and safety officers the authority to levy administrative penalties for repeated non-compliance with the OHS Act. WorkSafeNB will be recommending these changes in 2020. We appreciate the broad support from employers and labour for this proposed legislation that will help achieve safer workplaces.
Safety Leadership Through Education Compliance 
Education is key to driving a safety-first culture. And we believe it's never too early to start educating New Brunswickers about health and safety. In 2019 we hosted the always popular Safety Days for students from Grades 4-6, in Petitcodiac, Bouctouche, Florenceville and Saint John. More than 1,600 children enthusiastically engaged in several topics such as fire safety, chemical safety, bicycle safety, disability awareness, and personal protective equipment (PPE).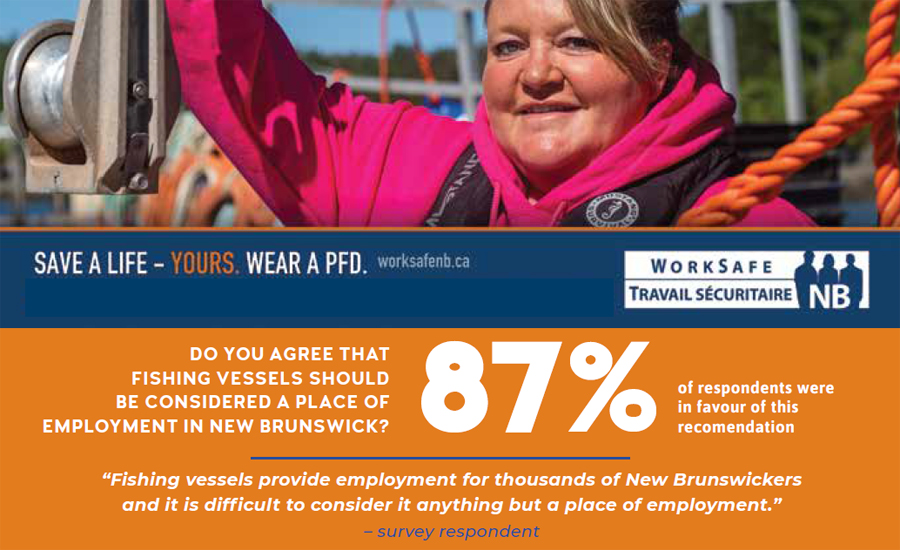 Another crucial educational tool is our annual health and safety conference. More than 600 delegates attended the 2019 conference in Fredericton in October. Workshops addressed topics such as the new violence and harassment legislation, safety leadership, best practices on early and safe return to work, mental health and resilience, as well as industry-specific topics such as handarm vibration and silica dust. The speakers were outstanding, and the degree of positive feedback we received was astonishing.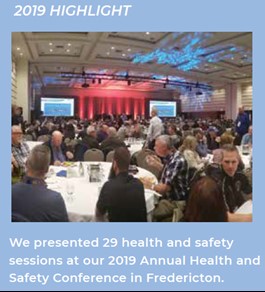 Unfortunately, restrictions related to COVID-19 will prevent us from holding a Health and Safety Conference in 2020, but that does give us more time to plan for another great event in 2021.
Compliance
As a regulator, WorkSafeNB ensures compliance with the OHS Act through workplace inspections by our health and safety officers. A separate team of accident investigators respond to severe accidents. During 2019, they conducted 578 investigations, 35 which were serious incidents such as fatalities, fractures and any injury requiring hospital admission as an in-patient. The most severe Occupational Health and Safety Act violations often lead to prosecutions under the Act. Throughout 2019, the courts finalized 12 proceedings on various charges, with fines totalling $273,330. We have seen the maximum penalties imposed steadily increasing in recent years as the view on health and safety violations is becoming more unacceptable.
Changes to legislation in December 2019 extended the time frame to complete the investigation of any safety incident. WorkSafeNB may now lay charges up to two years from the time that we learn of the event. This will allow sufficient time for WorkSafeNB to complete the investigations, which are generally becoming more complicated. Details on occupational health and safety prosecutions are published on our website under Court Cases within the Policy and Legal tab.
While compliance is a necessary tool, our first steps are always focused on awareness and education. We are pleased with the level of co-operation we've received from employers, employees and other stakeholders. While we still have much work to do, there has been steady progress in driving toward a safety-first culture at New Brunswick workplaces.

2019 Highlights