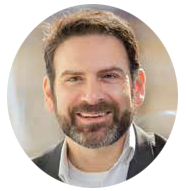 Moving with Momentum
A Q & A with WorkSafeNB's Chairperson, Mel Norton
In April, Mel Norton was appointed to a five-year term as chairperson of the board of directors. With one year under his belt, Mel reflects on the opportunities and challenges WorkSafeNB faced in 2019 and the focus for 2020.
What inspired you to join WorkSafeNB's board of directors?
I've always been interested in serving – whether it's clients in need of legal services, helping new lawyers prepare for their bar exams, or serving my community. As a former councillor and mayor of the City of Saint John, I was elected to serve the citizens of that municipality. In my appointment as chair of WorkSafeNB's board of directors, I felt proud and privileged to be able to serve once again – although to a much larger community because, in one way or another, directly or indirectly, WorkSafeNB serves all New Brunswickers.
What do you believe was our board of directors' greatest success in 2019?
I joined WorkSafeNB's board of directors with great pride and privilege, but I knew it was a difficult time for the organization.
The assessment rates paid by employers had been on the rise for several years, the recovery and rehabilitation time for injured workers was increasing, and there were external reviews of WorkSafeNB that had been recently completed.
Rather than viewing this environment as a challenge, I saw joining the board as an opportunity to transform the organization to better serve our stakeholders. In 2019, we leveraged the recommendations from the reviews and diligently pursued legislative amendments required to build the WorkSafeNB of the future. These efforts are already paying off – the average employer assessment rate for 2020 dropped by nearly 10%, a critical benefit for injured workers, the elimination of the three-day waiting period was enacted, and we returned to a fully funded position.
What lies ahead in 2020?
2019 was indeed an important year for WorkSafeNB and in 2020 we will build on that momentum. Despite WorkSafeNB's recent successes, the board of directors must continue to anticipate the changes and challenges the future will bring to maintain, and further improve, what we've worked hard to build. Powered by our strategic plan, collaboration with our stakeholders, new legislation, and thoughtful recommendations from external reviews, we'll continue our efforts toward reducing workplace injury and disease, achieving financial sustainability for our workers' compensation system, and building a workplace committed to superior service.
Modernizing WorkSafeNB's processes and technology will be a key focus. Over the next three years, we'll be making significant and needed investments to transform processes, systems, and our service delivery model to meet changing business realities. For example, our claims management system is more than 25 years old and, while it has served us well for many years, investing in a new system will mean a more efficient and modern WorkSafeNB. This business transformation is a long-term journey, but in 2020 we will begin preparing and maturing the organization to take the first step.
Good governance is fundamental to the organization's success and this board is committed to building a culture of continuous improvement in all our governance practices. This focus will ensure a solid foundation for decision making and oversight at the board level, enabling the organization to meet its current goals and be better positioned to facilitate a successful transformation of the organization over the next three years.
Any final comments?
I would like to thank all employers, workers, WorkSafeNB staff, my fellow board members, and the Government of New Brunswick for their commitment to improving workplace health and safety and building a workers' compensation system that meets the needs of employers and workers. All workplace partners play a critical role in our success and I am looking forward to continuing the journey together.

Mel Norton