View or register for WorkSafeNB workshops
---
Day of Mourning
April 28, 2018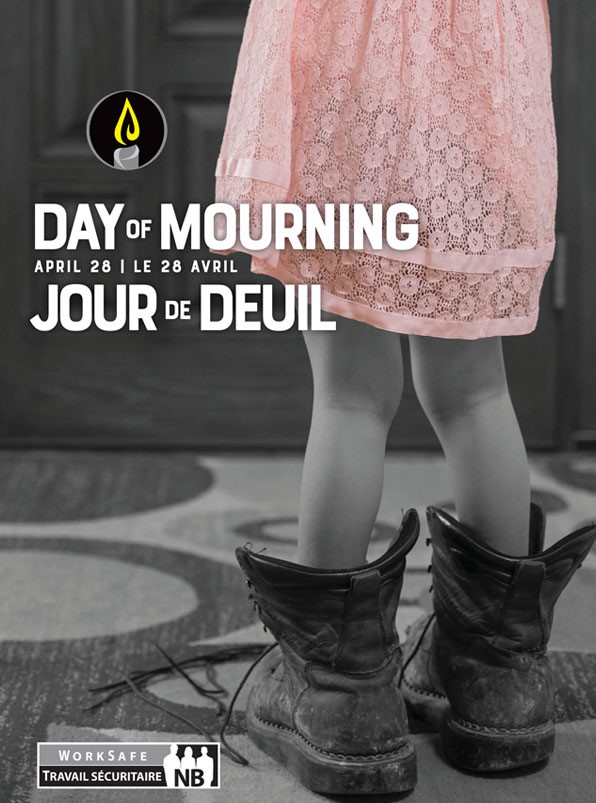 On this day, we urge you to honour the memory of all workers who lost their lives due to workplace injuries or illness, and to resolve to improve workplace health and safety. WorkSafeNB encourages everyone to mark this event by observing a moment of silence, lowering your flag to half-mast, or attending a remembrance ceremony.Every year, New Brunswickers are injured at their workplace, some of them fatally. In 1984, the Canadian Labour Congress established April 28 as a day for workers and employers to reinforce their commitment to workplace safety and prevent occupational disease, injuries and deaths. It is a day to remember those workers who have died, and a call to protect the living. April 28, known as the Day of Mourning, is observed across Canada and recognized in more than 100 countries worldwide.
To receive posters and lapel pins for this event, email WorkSafeNB's communications department.
View the list of dates and locations of remembrance ceremonies taking place around the province.
---
North American Occupational Safety and Health (NAOSH) Week
May 6-12, 2018
North American Occupational Safety and Health (NAOSH) Week is a partnership between Canada, the United States and Mexico, that promotes the benefits of investing in occupational health and safety, and the importance of preventing workplace injuries and illnesses.
WorkSafeNB encourages you to celebrate occupational health and safety for an entire week and raise awareness for safer workplaces and communities. For ideas on how to celebrate NAOSH week in your workplace, visit the NAOSHevent suggestions page.
The 2018 North American Occupational Safety and Health week (NAOSH) takes place May 6-12.
---
Steps for Life
May 6, 2018
Steps for Life is a fundraising walk in support of Threads of Life, a charity providing support to families affected by workplace tragedy. Join us as we step forward to raise awareness about the importance of workplace health and safety. To learn more about this walk in support of families of workplace tragedy, visit Steps for Life.
---
Disability Awareness Week (DAW)
May 27 – June 2, 2018
Established in 1988, Disability Awareness Week (DAW) was inspired by Rick Hansen's Man in Motion World Tour. DAW aims to raise public awareness about accessibility and inclusion for people with disabilities.
Disability Awareness Week activities are co-ordinated at the provincial level by the  Premier's Council on the Status of Disabled Persons.
In recognition of DAW, WorkSafeNB will host a Walk and Roll Challenge at WorkSafeNB's Rehabilitation Centre, 3700 Westfield Road, in Grand Bay-Westfield on Friday, June 1 at 9:45 a.m. (rain date: June 4). Join us! (no registration required)
---
2018 WorkSafeNB Annual Health and Safety Conference
October 3-5, 2018
Mark your calendars! This year's Health and Safety Conference will be held at the Fredericton Convention Centre , October 3-5, 2018.
---
Canadian Standards Association (CSA)