WRC celebrates 40 years of service to workers
December 15, 2017
On November 10, 1977, the WRC (at that time known as the Worker's Rehabilitation Centre) opened the doors to its new facility in Grand Bay - Westfield. Before that, between 1965 and 1977, the WRC operated out of what is now called Ridgewood Addiction Services.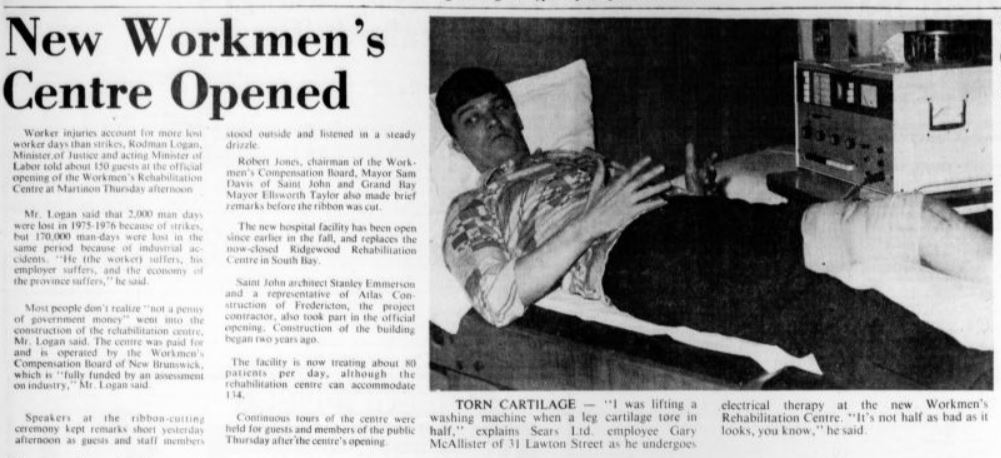 The only specialized treatment center of its kind in Eastern Canada, the WRC is a world-class facility that consistently meets the stringent requirements for accreditation by the Commission on Accreditation of Rehabilitation Facilities (CARF) International. To achieve this accreditation, the WRC must meet more than 1,000 internationally recognized standards and go through a rigorous peer-review process. 
To honour the WRC and its staff, WorkSafeNB hosted a celebration on Friday, November 10, 2017.
More than 120 former and current employees gathered in the WRC cafeteria to take a trip down memory lane and celebrate the centre's success and the many dedicated staff members who have helped thousands of injured workers.
"We're proud of the WRC for its quality of service and the role it has played in supporting more than 24,000 New Brunswick workers over the last 40 years," said Tim Petersen, WorkSafeNB's acting president and CEO.
We would like to thank all who attended and helped make this a special day of storytelling and celebration. It is the passion and devotion of the WRC's people that make this facility truly remarkable.