Seat belts and roll over protection structures save lives!
August 17, 2018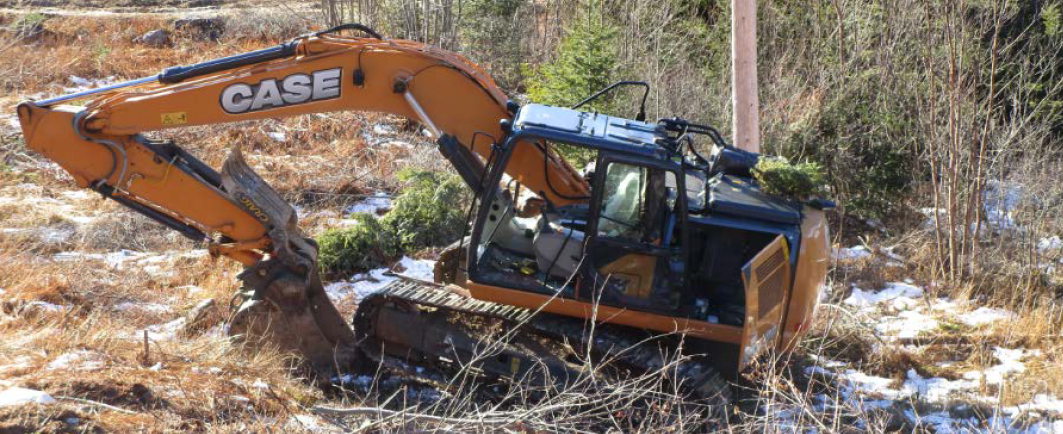 A recent investigation into a workplace incident involving powered mobile equipment highlighted the importance of roll over protective structures (ROPS) and seat belt use. We want to remind New Brunswick workers and employers of the priceless value of these protective measures.
During the winter, an excavator was moving down a hill that did not have snow on it but the ground was frozen. The excavator started to slide, and the tracks hit the raised frozen ground. The momentum of the excavator combined with the position of the counterweight caused the excavator to roll over.
Luckily for the worker, the excavator was equipped with a roll over protective structure (ROPS) and a falling objects protective structure (FOPS).
The experienced operator reported never having an incident before. Fortunately, he was able to walk away due to the equipment having proper ROPS combined with use of the seat belt.
In the event of a rollover, the rollover protective structure (ROPS) will act as a protective box around you and the seatbelt keeps you inside the box.
Falling objects protective structures are metal mesh sheets wrapped around the powered mobile equipment where the operator sits. It protects them from branches, rocks and other falling objects
How do you avoid a similar incident?
Make sure your training includes safe operation on slopes in different weather conditions, including proper position of the boom, arm and counterweight.
Wear the seat belt when operating powered mobile equipment
Ensure seat belts are in good condition
Resources:
Guidelines for the use of excavators and other powered mobile equipment without rollover protective structures
More information: