News Release

WorkSafeNB enters partnerships with NBCC and CCNB
October 4, 2018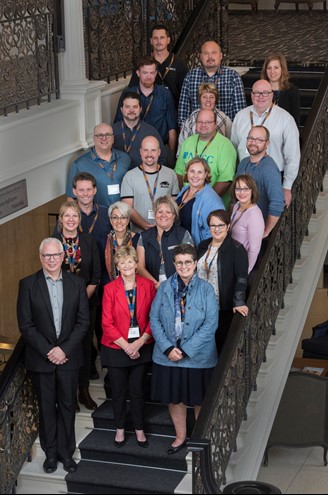 FREDERICTON – WorkSafeNB and New Brunswick's community colleges have signed memorandums of understanding (MOUs) to enhance health and safety education for the province's future workforce.
New Brunswick Community College (NBCC) and Collège communautaire du Nouveau-Brunswick (CCNB) have dedicated health and safety education resource personnel at their combined 11 campuses. These representatives collaborate with WorkSafeNB staff and college instructors to help ensure health and safety curriculum adheres to the country's best practices and provincial legislation.
"This collaboration will ensure quality safety curriculum and help instill a sound workplace health and safety culture in students – our future workers," said Douglas Jones, WorkSafeNB's president and CEO. "We want to empower our youth to be proactive in workplace safety."
WorkSafeNB has longstanding relationships with CCNB and NBCC through consultation and its Back in Form program, which supports nursing students.
"We're excited to formalize these new partnerships that further demonstrate our mutual commitment to excellence in health and safety education and training in all industries," he added.
CCNB president and CEO M. Liane Roy says the partnership is critical for students entering New Brunswick's evolving workforce.
"Health and safety legislation continually changes with society and industry needs. Our students have to be equipped with the highest level of health and safety knowledge and understanding for their sector," she said.
"NBCC realizes the importance of forging strategic partnerships that benefit our students and the College as a whole," said NBCC president and CEO Marilyn Luscombe. "This partnership will help ensure health and safety remains at the forefront of our college programming."
NBCC has a population of 8,595 students in full-time programs, apprenticeships and continuing education. CCNB has a population of 8,617. The MOUs last for one year, with an option to renew.
Media contacts:
Laragh Dooley, Acting Communications Director, WorkSafeNB
506 632-2223
communications@ws-ts.nb.ca
Bruno Richard, Communication Adviser, CCNB
506 543-0661
bruno.richard@ccnb.ca

Tanya Greer, Corporate Communications Co-ordinator, NBCC
506 453-8194
tanya.greer@gnb.ca