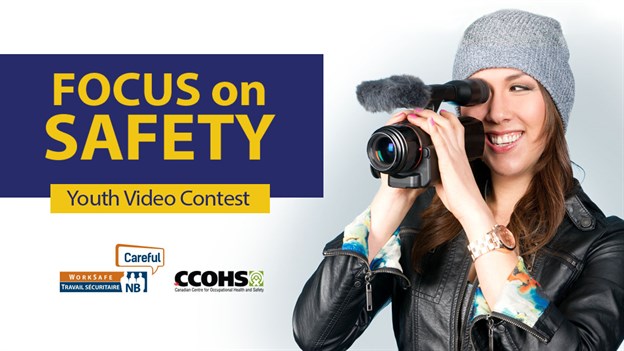 Can a two-minute video save someone's life?
Zach MacMillan-Kenny thinks so.
Last year, the Riverview teen took Canadian top prize for his video The Eye in the 2017 Focus on Safety Youth Video Contest, sponsored by WorkSafeNB and Canadian Centre for Occupational Health and Safety (CCOHS).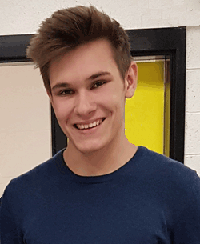 It earned him and his school a combined $6,000. More importantly, it raised awareness on the topic, hopefully enough to prevent a teen from becoming injured on the job.
"The video spread awareness about work safety all across Canada. Many companies showed the video as an illustration of the importance of work safety," Zach said.
Today, WorkSafeNB, in collaboration with CCOHS, launches its 2018 Focus on Safety Youth Video Contest.
WorkSafeNB invites New Brunswick high school students to create a two-minute video that captures the importance of working safely.  Several provincial and national prizes are up for grabs, with incentives for both students and schools.
Zach's key motivator was safety, he said. He and his grandfather Peter Grant, who was featured in his award-winning video, share a passion for conveying its importance.
As a young man, Grant was involved in a workplace accident.
"His legs were crushed by a forklift during a work incident simply because he and a colleague didn't follow proper safety procedures," Zach said.
"My granddad was extremely lucky," he added. He kept his ability to walk. "But this isn't the case for many people in a work accident; they don't come out as lucky."
Zack couldn't use a forklift to describe his grandfather's experience, so he shared a fictional story that involves a young worker who reaches for chemicals without proper eye protection. The misstep affects the man's ability to conduct everyday tasks for the rest of his life.
"I wanted to create a video that would show people the true horror that some accidents cause," Zach said.

Schools recognize the value
WorkSafeNB works collaboratively with New Brunswick school boards and teachers to inform students of the Focus on Safety Youth Video Contest.
Ben Kelly, teacher of innovative design, at Caledonia Regional High School in Hillsborough, says "it allows students to share their understanding of workplace safety while creating a resource intended to keep others safe."
Though safety is a constant focus at schools, he said, the WorkSafeNB contest lets students zero in on workplace safety.
"Students genuinely feel they are making a contribution that could save a life."
No special equipment required
WorkSafeNB encourages all high school students to participate in the 2018 contest.
All students need to participate is a cellphone and a passion for helping other young people stay safe.
Check out WorkSafeNB's YouTube channel to see past entries, including The Eye, for inspiration and visit our contest page for prize details, video-making tips, entry information, rules and more.
Deadline is April 6, 2018.