Announcement

New COVID-19 prevention poster for workplaces
June 15, 2020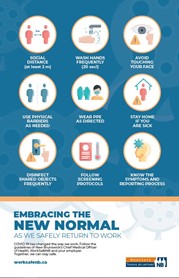 WorkSafeNB has created a poster to help remind employees of their responsibilities during the COVID-19 pandemic.
The Embracing the New Normal poster reminds all workers that they must social distance as much as possible (at least two metres), wash hands frequently, and know the symptoms of COVID-19 and their workplace screening protocols, along other key precautions. 
The poster is part of a series of resources available to New Brunswick employers.
Among others:
Out-of-Province Travel Plan for New Brunswick-based Workers form, available in PDF and Word versions
WorkSafeNB has been working diligently with the Province of New Brunswick and employer and worker groups to develop and deliver resources that meet their needs in this ever-changing environment.
For more information and other resources, go to COVID-19: What Workers and Employers Need to Know.