Announcement

New chiropractic reporting process
April 29, 2021
WorkSafeNB has updated its chiropractic reporting process. Instead of two forms (for initial and follow-up visits), there is now one form for all visits. The Chiropractic Form 8-10, available in fillable PDF format, aligns with legislative changes and best practices affecting workplace injury recovery and return to work. 
Developed in consultation with New Brunswick chiropractors, the form focuses on a worker's abilities after an injury or illness. This helps workers stay at work or return to work as soon as safely possible. Early and safe return to work contributes to positive recovery, with benefits to both physical and psychological wellbeing. 
See more from Choosing Wisely Canada.
WorkSafeNB is committed to effective workplace recovery and superior service. Learn more about workplace injury recovery at worksafenb.ca/workers.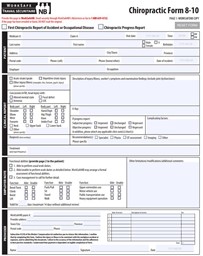 Chiropractic service providers: To help in the transition, WorkSafeNB will accept older forms (Form 8C – Chiropractor's First Report of Accident and Form 10C – Chiropractor's Progress Report) up to and including July 31, 2021. Any recently submitted forms will not need to be resent. We ask you to discard or recycle any remaining printed forms and use the new combined form for any upcoming reports. See details on form completion.
If you have any questions, please call 1 800 999-9775.