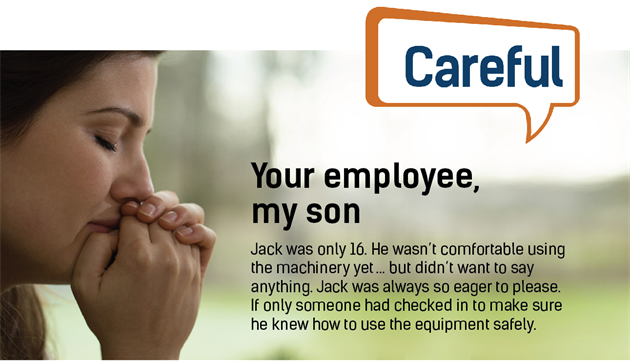 Young workers, aged 15-24, bring energy and fresh ideas to a workplace but they are three to four times more likely to be hurt on the job within the first six months of employment than the average Canadian worker.* In addition to learning new job skills, young workers may:
Still be developing decision-making skills.
Be shy and uncomfortable speaking up.
Not know their rights.
Lack safety experience.
Let's talk safety. Every day.
WorkSafeNB asks you to make safety part of everyday conversation. By encouraging daily discussion, you build a workplace where young workers feel comfortable asking questions and sharing safety concerns.
Young workers need your help.
You are legally obligated to provide training and orientation for new workers. For you, as an employer of young workers, it means understanding their particular needs, and providing the training, supervision and support that meets these needs. 
The following resources will help:
Let's Talk Safety: Toolkit for Employers of Young Workers
Safety Talk: Young Worker Safety
WorkSafeNB Guide to OHS Legislation (app and website)
Employer Checklist: Orientation and Training of New Employees, Workplace Incident Reporting and Safety Policy
Health and Safety Orientation Guide for Employers
Hazard Alerts
Young Worker Dies When Run Over By a Truck
Young Worker Injured when Manual Pallet Jack Accelerates Down Ramp
Posters
No Mercy (Hot Grease Shows No Mercy) 
No Mercy (Machines Show No Mercy) 
Young Worker: Walked In, Carried Out 
Pamphlets
The Right to Refuse Unsafe Work 
Pocket Cards
When an Accident Happens at Work 
Working? How Safe Are You… Really? 
* Institute for Work and Health (Ontario)