We know patient care is important to you. Providing effective and timely treatment helps your patients heal faster - they feel supported and have improved medical outcomes. WorkSafeNB wants to help you achieve these results.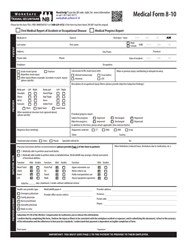 After research and discussion with the New Brunswick and Canadian medical communities and other compensation boards across the country, we're improving the medical reporting process.
The Medical Form 8-10 requires physicians to provide functional abillities recommendations. Evidence shows workplace connection is good for mental, physical and emotional health. Even if a worker is able to work one hour per week, there are positive benefits. 
Employers have a duty to accommodate reasonable restrictions and limitations. Please do not sign patients "off work." Instead, please state clearly what activities they can or cannot complete safely from a medical perspective.
Use Medical Form 8-10 for both initial and progress visits.
Please note this form is not compatible with Mozilla Firefox browser.
Read the full letter to physicians and nurse practitioners.


Instructions