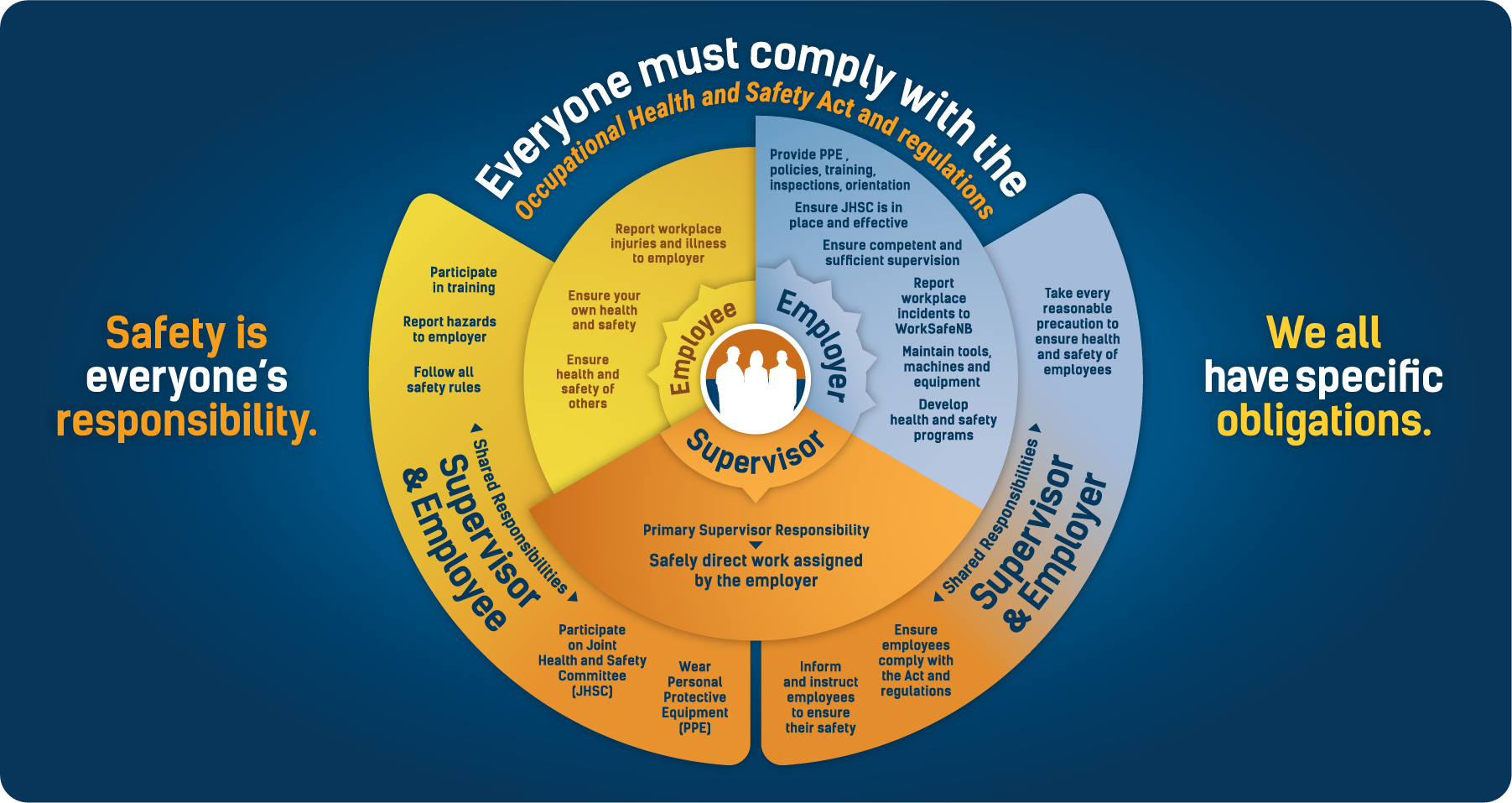 Supervisors play a vital role in the safety of their teams. But not every supervisor understands their obligations.
The Occupational Health and Safety Act (Bill 26) recently clarified the responsibilities of supervisors. 
We know you want to keep your teams safe. If you want help understanding what constitutes competent and sufficient supervision, or if you're not sure how these obligations fit within your workplace, give us a call 1 800 999-9775.
This wheel demonstrates the unique and shared responsibilities of supervisors, employees and employers. A full list of your obligations with helpful resources follows.
Know your role. Keep your employees safe.

A supervisor is a person authorized by an employer to supervise or direct the work of employees. This includes people from first-level supervision on the shop floor, to the manager, to the CEO. A supervisor's responsibilities include:
Primary responsibility: safely direct work assigned by the employer
Ensure employees comply with the Occupational Health and Safety (OHS) Act and regulations
Take every reasonable precaution to ensure the health and safety of employees
Inform employees of the hazards associated with their work
Inform and instruct employees to ensure their safety
Enforce company safety rules, programs, codes of practice and procedures
Follow all safety rules
Participate in training
Report hazards and injuries to employer
If a current member, participate on joint health and safety committee (JHSC)
Use personal protective equipment (PPE)
We want to profile New Brunswick supervisors committed to engaging their teams in health and safety. Know one? Send us a message!  

An individual or company can be prosecuted if they don't follow the requirements of the OHS Act and the regulations. Here are examples of supervisors who were recently prosecuted: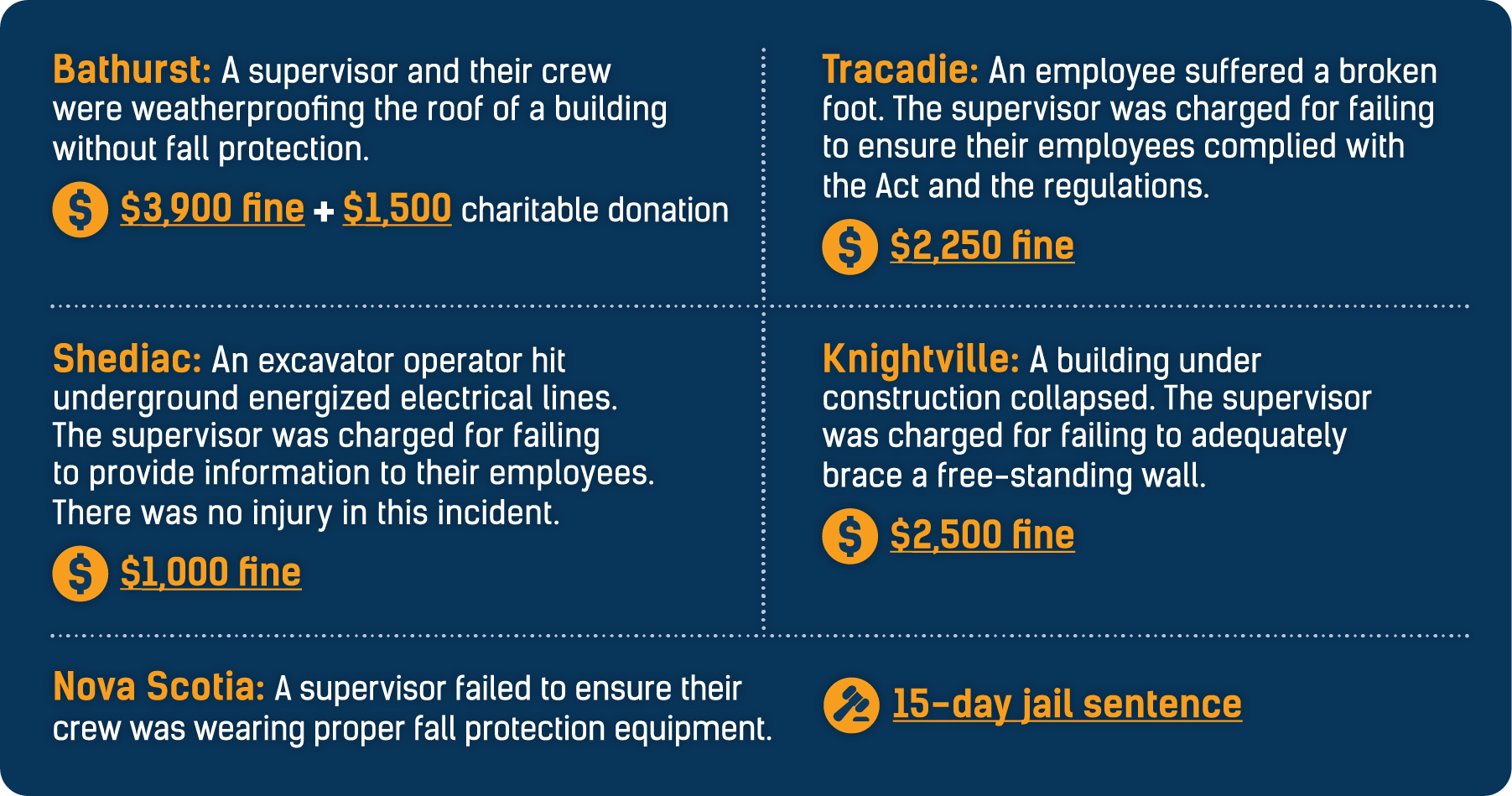 An employer employs one or more employees. An employer's responsibilities include:
Ensure employees including supervisors comply with the OHS Act and regulations
Take every reasonable precaution to ensure the health and safety of employees
Assign competent supervisor(s) with sufficient knowledge to ensure the health and safety of employees
Ensure supervisors provide sufficient (adequate) supervision to ensure employees under their direction are carrying out the work safely
Ensure supervisors are knowledgeable about all the work of the employees under their direction and supervision
Provide information, instruction and training to employees to ensure their health and safety
Report workplace incidents to WorkSafeNB
Develop safety policies, procedures, codes of practice and health and safety programs
Develop an inspection program and conduct monthly inspections
Maintain tools, machines and equipment
Establish, support and ensure effectiveness of a JHSC
Provide new employee orientation and training
Provide PPE

An employee is a person employed at a workplace. An employee's responsibilities include:
Report workplace injuries and illness to employer
Ensure own health and safety
Ensure health and safety of others
Participate in training 
Report hazards and injuries to supervisor or employer
Wear and maintain PPE as instructed
Resources
Wheel poster
Roles poster
Who is a supervisor 
Join us at our Health and Safety Conference October 7-9, 2020 at the Fredericton Convention Centre to learn more about this and other topics.